Many people get a 3-week holiday (paid or not), some have to "save up" their vacation days or sick days to reach this amount of days to go on a holiday. This is the reason most people with traditional jobs want to ensure that they are spending their well-deserved and hard-earned break from work properly and are achieving a very relaxing trip.
Most people love to go on a beach vacation, I mean, how can they not? Sitting on the beach drinking fresh coconut? Snorkelling, late mornings, and island exploration? There's really nothing better than not setting up an alarm and waking up to the sound of the waves hitting the shoreline.
However, before you get to that relaxing moment, there are a few things you have to do to plan your 3-week beach vacation. This includes researching where to go travelling, when to go, and even where is the most affordable beach destination. In this article, I will help you plan your 3-week vacation because here are Three Week Traveller, we believe that you should make the most out of your holiday regardless of how long or short it may be.
IMPORTANT TIP
I highly recommend you not submit a vacation request at your work yet until you figured out the date and the destination. On the other hand, if your leave date is already approved by your work, I'm sure we will find something for you.
WHEN ARE YOU GOING
This is the most important and the first thing you have to think about and perhaps discuss with people you plan to go away with. However, this decision could clash with where you want to go.
For example, as a teacher, you probably have to take your holiday when school is on break. If you plan to be on a budget, you maybe have to go during the offseason. It's best if you have two different ideal travel dates in case the first one doesn't match the destination you want to go to.
First, remember that the summer season doesn't mean it's summer anywhere in the world. Not only northern hemisphere and the southern hemisphere have different summer seasons, but you also have to take into account typhoons or the rainy seasons.
In the Caribbean and Southeast Asia, the typhoon seasons are from June until October. It is warm in northern Europe during these months but in places like the UK and Scandinavia, it often rains during summer.
WHO ARE COMING
Not only do you want to make sure that you are going to have fun but also your travel companion as well. When one of the people you are travelling with doesn't enjoy the travel itinerary you have set, it could really sour the mood and ruin the entire trip.
Other than the vote and total agreement on the travel plan, you also want to head to a place that is accessible for every participant. For example, if your travel buddy has arthritis, hiking long hours might not be suitable.
If there is a wheelchair user in your group, make sure to check how accessible is your destination. If anyone has a diet restriction or is a vegan, check if they will have plenty of food choices during your vacation.
And lastly, if you are travelling with young children and pets, double-check if the hotel or the attractions you plan to see is open to children and pets. For example, there are cruises that are adult-only or hotels that don't accept pets.
WHAT TO PACK FOR A 3-WEEK SUMMER VACATION
When it comes to packing for a summer vacation, it's much easier because most clothes are lightweight, thin, and small. This means that you can bring more versus when packing for a winter holiday.
There are some things you can simply buy at your destination. Since you are going for nearly 21-days, you don't really need to pack hair products and toiletries, unless you have to use something specific for your skin.
What you have to make sure to bring is clothing, it's hard enough to find swimwear that you feel comfortable in, you don't really want to fly half the world away and spend time buying swimsuits, flip-flops, or breathable shirts.
When packing for a 3-week beach vacation, it's important to pack sunscreen so that your skin won't get irritated or cause a rash. You should also ensure you have proper footwear such as shoes if you plan to do hiking and other outdoor activities.
Check our packing for a 3-week summer holiday for a complete list and a printable that you can download. We also have a general packing list for a 3-week trip and a packing list for winter.
BASIC TRAVEL TIPS
To help you further with planning, here is a compilation of travel websites and tools that I personally use. These help me ensure that my trip will run into little to zero hassle from leaving my home to flying back after fun and a great vacation.
WHERE TO GO FOR A 3-WEEK BEACH VACATION
Now that you have the travel date set and we have acknowledged your travel companions, let's see which destinations can you can spend your 3-week beach vacation. This is a list of the most popular places when it comes to enjoying the beach, sun, and water activities.
Central America/Caribbean
The stunning Caribbean is located in Central America, a group of islands filled with gorgeous white-sand beaches and crystal clear blue water. This destination is very popular with tourists from Europe, North America, and South America.
Even though the flight is long, many travellers from Asia are willing to take the long journey and explore and relax on its magnificent beaches, swim with turtles, and see other marine animals.
The Caribbean also have a very lively culture, spending your 3-week beach vacation here will be a party on the street where everyone is having fun, taking life less seriously, and just enjoying the beach life.
The best time to visit this region is from November to March. After that, the months of April to May are very hot to do anything while the months of June to October bring heavy rains.
However, this also means that November to March is the busiest time n the Caribbean. The crowds are much larger and the prices are higher. I do recommend you to go in November, just before Christmas or from late February to March. During this time, there are fewer crowds and the accommodation prices are a little lower. Read our 3-weeks in Central America to see itinerary samples.
Thailand and the Philippines
Thailand and the Philippines have quite similar beach spots; fine white sand beaches and clear blue waters. It's almost the Asia version of the Caribbean but more affordable You can go on a full-day boat tour for as cheap as $25 including lunch. These two destinations also offer amazing hiking trails.
Thailand has one of the best and most popular cuisines in the world which is from Asia. spending 3 weeks in Thailand means you can go hiking n Chiang Rai, party in Bangkok, dive in Krabi, and eat authentic Thai food without spending too much. While the Philippines offer easy travelling because English is one of the main languages here. We have a 3-weeks in the Philippines itinerary to give you an idea of what a beach trip looks like there.
Both have a heavy rainy season and high humidity from June until late October, it really won't be a good time to visit during these months. However, from November to February, the weather is much cooler, it's dry, and it's the peak season.
Malaysia and Indonesia
I want to discuss these two places together because first, they are very close to each other, but also because they have fantastic beaches as well. Apart from that, you can go explore Indonesia's beautiful volcanic craters where many are still active.
If you love surfing, you can catch some waves in Bali, but if you prefer snorkelling, don't skip Malaysia's Perhentian Islands. Same as the Philippines and Thailand, Malaysia and Indonesia should be visited from November until February to enjoy their water activities without getting rained on. 3 weeks in Malaysia are filled with exciting activities that won't cost a fortune.
For first-time visitors, it's important to do your research especially when it comes to finding out when is the best time for a beach vacation and where to go. Look up do's and don'ts to ensure you are being respectful when visiting sacred places. Check out this Indonesia for dummies for a great starting point for your research.
Take a look at our itinerary for 3-weeks in Malaysia.
Spain
Spain is undeniably one of the most popular beach destinations in Europe. Due to its accessibility, many tourists coming from nearly everywhere can reach Spain almost with a direct flight. Spain sits on the magnificent Mediterranean Sea which is world-class for a beach spot, you can easily spend 3 weeks in Spain to enjoy its waters from April to October.
It also offers great food, lots of hiking trails, and also a country rich in culture and history. If you find yourself getting too much fun at the beach (if that's possible), head to the capital Madrid where fun never stops.
There are many places in Spain to spend a beach vacation. Beaches in Malaga are popular, but you can still find great spots to lie down and read a book, while Valencia has incredible beaches and also lakes and nature reserves. For party-goers, you don't want to miss Ibiza.
If you are on a budget, check out itineraries for Europe on a budget or how to spend 3-weeks in East Europe.
Italy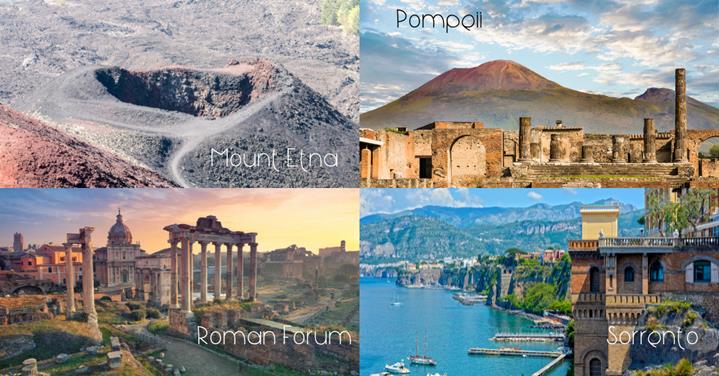 I honestly don't think I have to make an introduction or justify why Italy is an awesome place to spend your 3-week beach vacation. I mean, beach, surfing, wine, food, and history, what else is there to explain?
Italy is not only a popular vacation spot internationally but also among its European neighbours. You should start your 3- weeks in Italy in the north, where you can learn more about its history, culture, and even fashion. Then make your way to the central region and explore the capital city of Rome.
Finally, which is the best way to end your trip, go the south and lie on the beach of Naples (where the Amalfi Coast is located) and of course, Sicily.
France
For surfers, France is one, if not the best, spot for surfing in Europe. The western region of France (anywhere between Bordeaux and right down to the border with Spain). If you plan to take a 3-week vacation in France in summer, it's the perfect season for beginners while wintertime is best for intermediate surfers,
Apart from catching some waves, you can of course enjoy the beach in Niece and find yourself a little traditional French bungalow. You can also head to Marseille which is a port town and also busy yet lively.
Around the south of France is also where you can find the best wines in the country, this means that you should spend some time visiting vineyards and signing up for wine tasting.
Greece
We have all seen the alluring beaches of Greece. In the last decade or two, Greece really became one of the most sought-after 3-week beach vacation destinations in Europe. Since Spain, Italy, and Frane have become more expensive, Greece welcomed visitors from all over the world.
Not to mention it's where civilization has begun. Greece holds so much history and culture that the world has come to adapt and enjoy it until today. If you love history, you can enjoy its beaches and also learn more about the world.
Visit Athens, Sparti, Delphi, Meteora, Mycenae, Dion, Vergina, and Pella. For islands, head to Santorini, Mykonos, Crete, Corfu, and Milos – and that's just to name a few.
Mexico
During COVID-19 worldwide border shut, Mexico is one of the few countries that kept their borders open. This led to attracting a lot of people who wanted to travel and take a vacation. As result, Mexico is now one of the most talked-about destinations in the world of travel bloggers.
Mexico has always been a popular vacation spot to its neighbour the US. But today, Puerto Vallarta has gained popularity alongside its already well-liked beach spots Cancun, Playa del Carmen, and California Sur.
Mexico has beaches as beautiful as the Caribbean and a lot more affordable too. The locals are friendly, and the food is amazing. Planning a 3-week trip to Mexico should be done at least 3-6 months in advance because it's a popular summer and winter destination for visitors from the US and Canada.
Florida or California
If you are from the US and don't want to waste too much time flying and such, perhaps Florida or California is a great destination to spend your vacation.
But if you have never been to the US, these two states are the most-loved location for some sun and beach lovers. Both places are quite expensive but with enough planning, they can be affordable. California has some great waves to surf while Florida is an awesome post to simply lie on the beach, read a book, and drink cold cocktails.
The best way to get around the US, especially if the states are near each other is to rent a car. A road trip on the East Coast is a great way to travel on a budget for 3-weeks in the US, which will take you from Massachusetts to Florida.
SUMMARY OF 3-WEEK BEACH VACATION
A summer vacation doesn't have to mean you have to go to a place that is crowded and hard to relax. There are many places you can go and spend your holiday. With enough planning, you can enjoy your 3-week beach trip doing things you like; it doesn't matter if it's being lazy on the beach, hiking, city tours, surfing, and road-tripping.
I hope that this article on planning your 3-week summer holiday has been useful for your upcoming well-deserved break.
TO BOOKMARK THIS POST, SAVE IT ON YOUR PINTEREST: