Thailand is undeniably one of the most popular holiday destinations in Southeast Asia. It's safe to say that it is the gateway to the region, welcoming tourists with its fine white-sand beaches. Thailand is also known for being an affordable vacation place compared to Europe and North America.
To spend 3 weeks in Thailand is not a problem. There are many places to see, from hiking mountains, diving for the corals, and, most importantly, tasting authentic Thai dishes. You can do all these in just 21 days in Thailand without rushing yourself.
In this article, I will show you the must-see places in Thailand and how many days to spend on each. You don't have to follow this itinerary day-by-day, you can make your own travel itinerary that is more suitable for you.
Use this as a guide instead. To help you to pack smartly, download our free packing list for a 3-week trip which you can find on our sidebar or scroll at the bottom if you are on mobile.
THINGS TO KNOW BEFORE GOING TO THAILAND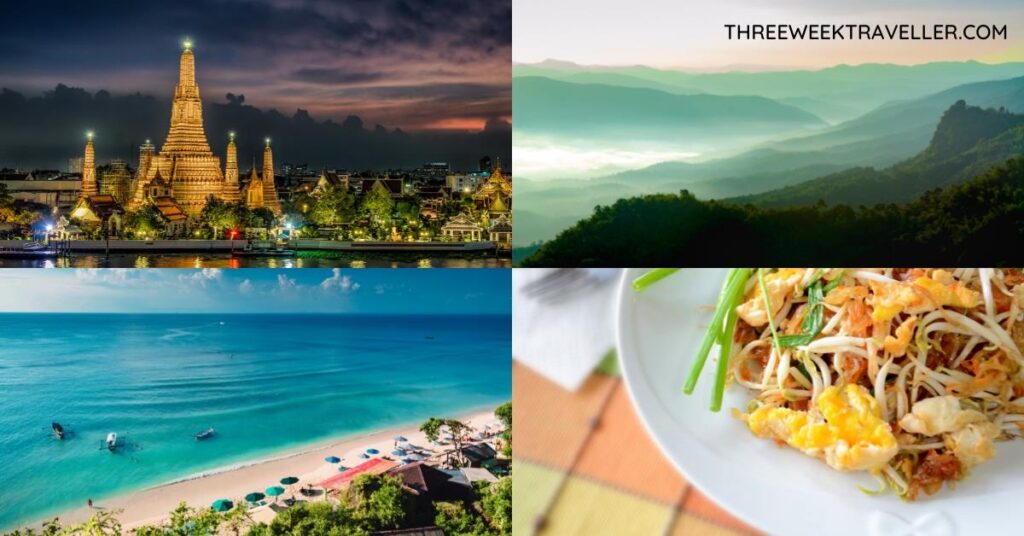 But before you pack your bags and book the flights, take a quick look at these things you should know about taking a vacation in Thailand. This will help you visualise and organise your trip better.
When is the best time to go to
Southeast Asia has long months of typhoon season. For Thailand, it's from June to December, which means the best time to visit Thailand is from December to April when there's very little chance of rain. The month of May is scorching.
You should remember that December to February is the busiest time in Thailand. This means that hotels get booked up quickly the prices are a little higher. The crowds are also much larger.
Are 3 weeks enough in Thailand
For 20 days, you could visit a lot of places in Thailand. Of course, the more time you have, the better. But with 3 weeks in Thailand, you can see the top attractions such as exploring Bangkok, hiking around Chiang Mai or Chiang Rai, and visiting the southern islands such as Koh Samui, Phuket, and Krabi.
If you combine taking the bus with a domestic flight, you could maximise your time. Rent a motorbike around the islands, which will give you the freedom to see many places in a short period of time.
If you feel like 3 weeks in Thailand is too much, you can also plan a 20-day trip between Thailand, Vietnam, and Cambodia.
What to pack
Aside from your best swimsuits and sunglasses, don't forget to pack some good walking shoes or sandals. This 3 weeks in Thailand itinerary includes visiting Chiang Mai and Chiang Rai, where you can do some fun hiking.
Thailand is also filled with temples and pagodas, which means you should carry lightweight and long trousers or shirts to cover your legs and shoulders (both sexes). A lightweight oversized scarf or sarong will do the job as well.
Animal abuse
For over a decade, Thailand was known for riding elephants and tigers photo opportunities. Elephants were trained to be friendly around people, make the ride on their bike "safe", and perform circus-like shows. During this training, elephants get tied, beaten, and abused. On the other hand, tigers were drugged so tourists could take a picture "safely".
Today, although the government has distanced itself and condemned these businesses offering this kind of experience, there's yet to be a law to prevent these businesses from existing.
There are now many "sanctuaries" for elephants claiming to be ethical and working towards rescuing and taking care of them. Instead of riding, tourists will get to feed and bathe the elephants. Although many of them do a lot of good, not all of them are entirely ethical.
Be cautious of places labelling themselves as elephant sanctuaries, tiger/kingdom sanctuaries, and dolphin shows/aquariums. I recommend you read reviews from different sites and Youtube Channels to filter places out.
How to get around
You probably know that tuk-tuks are the main transportation in Thailand, both in cities and rural areas. Getting from one city to another, you can either take a domestic flight or a bus. Plane tickets are pretty affordable, so to save you some time and travel hassle-free, it's better to get on a plane if possible.
You can also use ride-hailing apps in metropolitan cities such as Grab and inDriver. At the same time, you can rent a motorbike in small towns or islands to get around if you feel comfortable driving it. You must have your international driver's license or IDP to drive in Thailand legally.
Visa and COVID-19 protocol
Thailand has quite a friendly visa policy. Visitors with passports from most of Europe, North America, Southeast Asia, East Asia, Oceania, and some Latin America, Gulf Countries, Africa, and South Asia can enter Thailand and enjoy a visa-free or visa on arrival for 14 to 90 days.
Thailand is open to tourists. The government announced an entry requirement in January 2023 but changed its mind a day later. Foreign visitors can enter Thailand without travel restrictions apart from the visa rules in place, but if you have a vaccine card, best to bring it. You might still be asked or expected to wear masks in public transportation (including the airport).
Average cost of 3 weeks in Thailand
Fortunately, Thailand has remained affordable all these years of being a top destination in Southeast in the last three decades and continues to be so. You can easily travel around Thailand on a backpacker budget of $800, but you will have to stay in shared dorm rooms.
For those who can spend around $1,200, you can book your private room and sign up for better tours. If you're looking to splurge, let's say, spend your honeymoon or anniversary, $2,000 for 3 weeks in Thailand in luxury will go a long way.
Package tours
You can also save up your energy and book a package tour instead, where the agent will handle all the arrangements on your behalf. The service includes accommodation, tours, food, guides, porters, and transportation.
There are tours for young people, such as those in their gap years (18-30s something), and there are also family-friendly tours.
There's a 14-day tour and a 15-day tour covering Bangkok and Koh Tao. If you're staying longer, then you can have the freedom to plan the final week of your trip. That means you can do the 7 days on your own if you're feeling adventurous. There's also a 12-day family-friendly tour if you're travelling with children.
Other travel tips
Travel arrangements can be overwhelming, especially if you don't go on trips that often. But it doesn't have to be. Today, there are many services out there, but if you find sites that you trust and enjoy, offering a wide selection and flexible cancellation, that will be more ideal.
This is the reason there are travel sites that I love using. If you need help finding trusted sites for travel services, these are the tools and websites I always use:
PINNED MAP OF MUST-SEE PLACES IN THAILAND
Click the enlarge button on the top right corner. Credit: map data: Google
3 WEEKS IN THAILAND ITINERARY
This itinerary will take you to one of the world's most famous cities – Bangkok, where you can warm up for your vacation. Then you will head to the north for some hiking, before you fly down to the south for some beach time and water activities.
Day-to-day overview
Day 1: Arrive in Bangkok. Arrange an airport transfer to your hotel from Suvarnabhumi Airport (BKK) or Don Mueang Airport (DMK).
Day 2-5: Explore Bangkok's top sites
Day 6: Take a bus, train, or fly to Chaing Mai from Bangkok; travel time is 10 to 14 hours by land and a bit over an hour by air
Day 7-8: Explore Chiang Mai
Day 10: Explore Chiang Rai
Day 11: Take a flight from Chiang Rai to Phuket, you can also take the bus, but it's more than a day's journey, book an airport transfer from Phuket Airport to hotel
Day 12-13: Enjoy Phuket's beaches, waterfalls, and boat tours
Day 15-16: Explore Krabi
Day 17: Get to Koh Samui from Krabi by plane; flight is less than an hour
Day 18-19: Do boat tours and party in Koh Samui and Koh Phangan
Day 20: Take your flight out of Thailand
Bangkok for 4 days
Bangkok is known for many things, but one of those is how street food here is impressive. If you are worried about sanitation, these local dishes can also be found in restaurants. Thai food is well-liked everywhere in the world. So, don't let this chance to try authentic Thai food slip away.
Bangkok also has a very vibrant party scene, and it's definitely one of the must-do for a lot of visitors to Thailand. Below is a list of places to see and things to do in Bangkok.
What to do in Bangkok
Day trips from Bangkok:
Accommodations in Bangkok
Chiang Mai and Chiang Rai/Pai for 6 days
After your adventure in Bangkok and its surrounding areas, it's time to spend time with nature and get away from busy areas. Thailand's northern part has five national parks you must hike during your 3-week vacation.
You can reach Chiang Mai via a direct flight from Bangkok. Alternatively, you can also take a 9-hour bus ride. Apart from hiking, there are many places to see in Chiang Mai and tours that you can get on. If you love yoga and meditation, this is also the spot you want to be.
Since you have a week in Chiang Mai, you can also head to Chiang Rai or Pai, which is about a 2 to 3-hour drive. In those locations are more hiking trails and adventures waiting for you.
What to do in Chiang Mai
What to do in Pai
Kho Kuu So Bamboo Bridge
Yun Lai Viewpoint
Pai Canyon
Santichon Village
Doi Kiew Lom Viewpoint And Rest Stop
Sai Ngam Hot Spring
Nam Lod Cave
What to do in Chiang Rai
Wat Rong Khun (White Temple) and Golden Triangle – join a guided tour
Garden Of Reeds
Singha Park Chiang Rai
Pong Phrabat Hot Springs
Baan Dam Museum
Long Neck Village
Huay Mark Liam Hot Spring
Accommodations in Chiang Mai
Phuket and Krabi for 6 days
Even though hiking the mountains of Thailand gives such inner peace and complete serenity, you probably can't wait to see Thailand's famous beaches and see why they are very sought-after. 3 weeks in Thailand must include these two famous and stunning beach destinations.
You can take a direct flight to Phuket from the north of Thailand, which is about two hours. Phuket is an island in the south of Thailand, just hours from the border with Malaysia. It's well-loved for its very clear blue waters, lots of spots for diving and snorkelling, and many, many areas for water activities or simply beach bumming.
Krabi is not very far from Phuket. You can get there by land, which is about a 3-hour drive or a 3.5-hour ferry ride. Krabi is another spot for great water adventures, such as diving, snorkelling, and exploring mangroves and caves.
RELATED POST: 3 weeks in Malaysia
Things to see in Phuket
Accommodations in Phuket
What to do in Krabi
Accommodations in Krabi
Koh Samui and Koh Pha Ngan for 4 days
Your last stop is Koh Samui, another island off the coast of Thailand. You can get there by taking a direct flight or a 7-hour bus ride. Although Koh Samui is an island, the places you can explore are not only about off the coast. You can do many things inland, such as waterfall hopping and hiking.
On this island, I highly recommend booking a luxury resort. Not only do you deserve to be lazy at the end of your trip, but also because it has the best 5-star resorts in Thailand. It also has the best spots for sunset and sunrise.
There's another island next to it – Koh Pha Ngan, which you can reach by boat tour or a ferry (if you wish to change islands). On your last day, make sure to arrange your airport transfer.
What to do in Koh Samui
Mu Ko Ang Thong National Marine Park – book a sunset cruise
Tan Rua Waterfall
Lat Wanon Waterfall
Khun Si Waterfall
Na Mueang Waterfall
Namtok Tar Nim & Magic Garden
Lamai Beach & Viewpoint
Grandfather and Grandmother Rocks (Hin Ta Hin Yai) – go on a wild 4WD Jungle Safari trip
Lipa Noi Beach
Laem Yai
Maenam Beach
Fisherman's Village
Big Buddha
Lad Koh View Point
What to do in Koh Pha Ngan
Namtok Than Sadet National Park
Salad Beach
Chaloklum Beach
Mae Haad Beach
Namtok Wang Sai
Malibu Beach
Haad Khom
Bottle Beach and Viewpoint
Thong Nai Pan Beach
Haad Sadet Beach
Haad Wai Nam
Haad Rin
Accommodations in Koh Samui
SUMMARY OF 3 WEEKS IN THAILAND ITINERARY
It's so easy to spend 3 weeks in Thailand. You can visit and do so much, from hiking and city exploration to island hopping. Towards that end, you can even do nothing for 2 to 3 days and instead go for massages and read your book.
I hope you found this itinerary for 3 weeks in Thailand helpful in your upcoming vacation. Remember to make the most out of your holiday because you deserve it.
SAVE THIS TRAVEL ITINERARY ON YOUR PINTEREST: