Most people get a vacation for three weeks. Often, it gets overwhelming to decide where you should spend your precious and well-deserved holiday from your daily routine. Not only will you be using your annual holiday, which you have been looking forward to, but you are also spending your well-earned money.
Hence, choosing the destination of where to go travelling for 3 weeks holiday is an important decision.
I like to go to one place to maximise my three weeks and avoid wasting my time at airports or bus terminals. If that's not the case, I will choose a region where 2-3 countries are bordered by each other or just a short 1-2 hour flight.
In this way, not only do I save time from transportation, but I also get to really learn about each place and relax instead of packing and moving all the time. In this article, I will list the best 3-week holiday destination I went to.
Don't worry, I made sure to list places that offer different activities and cultures to give you plenty of choices depending on what you feel like doing.
TRAVEL TIPS FOR PLANNING A VACATION
As you can see, our website focuses on 3-week trips. Whether going on a backpacking adventure, a long honeymoon, an annual vacation, or a family trip, you will find something for you here. We cover destinations from all over the world and provide different itineraries.
Below is a list of articles that could help you plan your most deserving trip:
Below is a compilation of my favourite travel services when it comes to booking my arrangement. I personally book the flights first since those are the most unstable when it comes to price changing. Then, I reserve the hotels to make sure I get nice accommodation at a good price. May of these services have flexible booking in case you change your mind.
PIINNED MAP OF 3 WEEKS HOLIDAY DESTINATIONS
Click the icon on the top-right to enlarge the map. Credit: map data: Google
WHERE TO GO TRAVELLING FOR 3 WEEKS HOLIDAY
From stunning beaches, beautiful mountains, and rich culture, to great food, this list of destinations for a memorable 3-week trip is packed. I included places from 7 continents across the globe, and we are going 360° around Earth to find you a suitable vacation spot.
I have divided the list into 5 different categories; autumn/fall, spring, summer, winter, and seasonal/all-year-round.
IMPORTANT: Since this list includes countries both in the northern and southern hemispheres, the seasons can be confusing. So, please read the explanation under each season to understand when is the best time to visit them.
AUTUMN/FALL
Some people decide to travel during autumn or fall due to having a lot less crowd. On the other hand, these destinations also showcase the shift of season and highlight the beautiful colours of the trees. During this time of the year, the prices are also lower and more affordable.
The destinations below should be visited during "its own autumn season".
Canada
Canada is a great destination for winter or even summer, and even during autumn, Canada has so much to offer. The famous maple trees are in transition for the season. The weather is still bearable and comfortable – a perfect place to go for walks while exploring the city and even have the chance to visit waterfalls and glaciers before it freezes for the winter.
It's pretty easy to spend 3-weeks in Canada, whether you want to visit the East Coast or West Coast, or go explore historical and cultural sites.
Nordic
Coming from an affordable 3 weeks holiday to a bit of a splurge, Nordic is waiting for you. It's true that this part of Europe is on the expensive side, but that's for a reason. Denmark has one of the oldest cultures in this region and also is the oldest Monarchy in Europe.
Due to good relationships between these 5 countries, you can get direct flights between their cities, making travelling much easier. Travelling in Scandinavia is something very different and unique in many ways. From locals who can communicate well in English, the best salmon, and the yummiest rye bread you will ever have.
Don't get confused with Scandinavia and Nordic. Scandinavia is composed of Denmark, Norway, and Sweden. With Nordic, you add Iceland and Finland to that list.
If you want to explore only one place, 3 weeks in Norway, Sweden, or Finland is plenty, while you can combine Iceland and Denmark.
Visit Norway's Svalbard and Fjords, Nyhavn in Denmark, Sweden's business hub Stockholm, and learn how Iceland operates on 100% renewable energy, or the land of the lakes – Finland. We have our very own 3 weeks in Scandinavia and 3 weeks in Iceland itineraries to guide you.
Do you know that Iceland is the only country that is running on 100% renewable energy? So, if you are visiting and looking for things to do in Iceland, make sure to remember these Iceland travel tips and visit places that feature their geothermal energy and other sustainable sources of power.
Italy, Portugal, Poland
When autumn comes to these three European destinations, the summer vacationers have left, the hotels are less busy, and the beach is spacious again. Although it can be a bit chilly at night, it's still warm during the day. The tree colours in these countries are also very stunning.
What I also love about this trio is how they are all great destinations regardless of the season. However, you still have to make a basic itinerary plan to ensure that you know what to expect from the trip. Check or itineraries for 3 weeks in Italy and how to spend 3 weeks in Central Europe.
Due to affordable domestic flights that are direct, you can easily spend 1 week in each country and hop on a plane to get to another one. It's a fantastic 3-week autumn itinerary.
SPRING
On the other hand, spring offers the very opposite features of autumn. The trees are not going towards darker shades. Instead, they are blooming, colourful, and very vibrant. It's also getting warmer this season, so you don't need to lug a heavy winter coat with you.
Simply pack a down jacket and one or two lightweight, long-sleeved shirts for a 3-week holiday trip. We also have a separate article list of the best destinations to go to during spring.
These places must be visited during their spring season:
South Korea and Japan
Both South Korea and Japan are popular spring destinations for their beautiful cherry blossoms. If you come early in the year, you might even have a chance to go to a ski resort.
When visiting Japan, head to Kawaguchi Lake, where you can enjoy the cherry blossoms with a view of Mount Fuji. While in South Korea, you may want to match your travel date with the Yeouido Spring Flower Festival. Check our 3 weeks in Japan and South Korea itinerary (10 days in each country).
The Netherlands and Germany
Regarding Europe, The Netherlands has the most charming place where the tulips and hyacinths bloom during spring, which can be found in Noordoostpolder, an hour northeast of Amsterdam.
While Germany also features cherry blossoms, which are definitely inspired by the Japanese Sakura Campaign. You can see them in Berlin, Bonn, Hamburg, Munch, and Dortmund. You can spend 3 weeks in Central Europe, which covers Germany and its neighbouring countries.
Read our particular 3 weeks in Germany itinerary for those planning to see Germany only.
Nepal
Nepal should be visited during spring, sometime between March and the end of May. This is also the busiest month in the country because it's the only month people are allowed to summit Mount Everest pea.
The hike to Everest Base Camp is open during this season, then again in autumn, but no summit. So, if you want to reach the peak or meet people who will be summiting, you probably want to visit Nepal during spring. We have 3 weeks in Nepal itinerary that includes both no-long treks and long treks.
BEACH
First, you should know that these destinations should not be visited during your summer season. These destinations are great to visit for beach/water activities such as snorkelling, diving, and island hopping.
For example, the Philippines is an incredible summer destination, but you actually don't want to visit here from June until October because those are typhoon months. On the other hand, the South of Europe is a perfect place to go during the summer season in the northern hemisphere and spend your 3-week holidays. We have a list of the best destinations to spend 3 weeks on the beach.
Philippines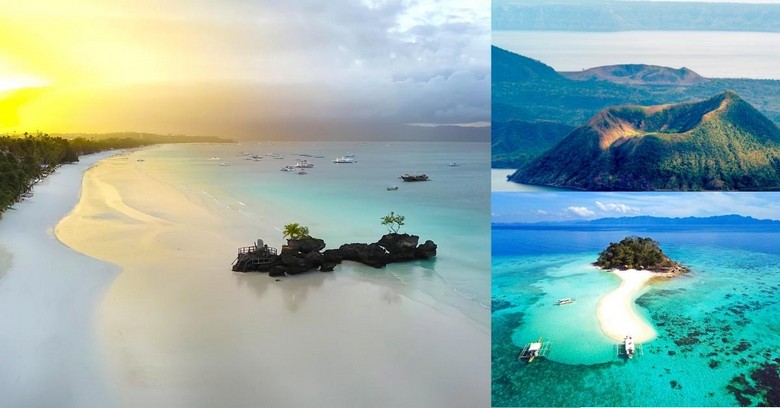 The Philippines should be your destination for more affordable diving spots and remarkable white beaches. English is widely spoken here, making it much more convenient to travel around. Composed of over 7,000 islands, the Philippines not only makes the best sunny destination but is also home to many active volcanoes.
On the other side, because of the number of islands, travelling between them can be challenging, so planning to go on vacation here for 3 weeks is just perfect.
Head to Boracay Island if you want a great island party and crystal clear water. Fly down to Siargao to catch some waves, to Palawan for the best snorkelling and diving spots, and to the northern part of the country for amazing views from the top of the mountains. Check out our 3 weeks holiday in the Philippines itinerary for some inspiration.
South Europe
A 3 week holiday in the South of Europe is warm, charming, and full of life. It feels like the people's atmosphere, culture, and vibe are lively and very easygoing. This part of Europe is known for its alluring beaches, historical sites, and delicious dishes.
For this region, you can combine Portugal and Spain for a 3 weeks holiday since they are next to each other. If it feels too redundant, I recommend Spain and Italy or Portugal and Italy, which both will require you to go on a short flight.
Greece is already impressive on its own, like Italy, where you can spend 3 weeks easily. But if you want to mix up your itinerary, throw in Albania and the little countries of Bosnia and Herzegovina, Montenegro, and Albania – your trip will be glorious.
TIP: You can spend 3 weeks in Italy too
Thailand
This country in Southeast Asia is famous for its white-sand beaches, crystal clear water, and is a very affordable 3 weeks holiday destination. Thailand, just like the Philippines, has the same months for typhoon season. This means that the best time to visit Thailand for its beaches and even hiking is from November until early April.
3 weeks in Thailand include hiking up in the north, snorkelling down south, and partying in the city. You can also simply relax on the beach or spend your time eating authentic Thai food at such an affordable price.
Central America/Caribbean
The Caribbean's peak season is during Christmas time/winter. Most hotels are booked up, and everything can be more costly. However, there is a little window from May to June, then October to November. There might be some rain here and there, but it's not as intense as from July to August. Read our 3 weeks in Central America itineraries.
GO ON A CRUISE
Another great way to spend your 3-week vacation is to go on a cruise. There are many choices, many of which cover plenty of destinations. For example, a 7-day cruise that leaves Italy would go to Greece and Croatia. While a cruise leaving Florida would explore many islands in the Caribbean.
If you want, you can also book a cruise that is only for a week, then travel on your own for the rest of 2 weeks. On the other hand, you can book an entire 3-week cruise if that's something you have in mind.
What I love about cruises is that they pretty much cover everything. The accommodation, transportation, food, and some activities on board are all included in your ticket. If you want to do an excursion at the port, you can book one at an extra fee.
Today, big-brand cruise lines such as Royal Caribbean, Norwegian Cruise Line, Princess Cruises, Carnival Cruise Lines, and Celebrity Cruises have top cruise ports in North America, the Caribbean, Europe, Oceania, and even the Pacific Ocean.
WINTER
When discussing winter destinations, we all know that you want to spend your 3 weeks holiday skiing and enjoy the cold months while having fun. You no longer have to wait for the winter to be over, avoid the big crowds of people flocking the beach during summer and instead spend your vacation during the supposed to be "dark and indoor months".
These destinations must be visited during the winter months. USA, Canada, Europe, and Asia have the same winter months; November to February. At the same time, Chile and New Zealand's winter months are from June until August.
Central and Eastern Europe
Central Europe brings you Switzerland, Germany, Poland, and Austria (perhaps northern France too). All these countries are such great destinations for winter and skiing. Central Europe can be an expensive destination for winter activities. However, Poland and East Europe are just a plane over, and it's more affordable.
You can go to Czechia, Slovakia, and even Hungary. You don't have to spend too much money to try out skiing for the first time or go on a ski holiday during winter. We have an itinerary that covers 3 weeks in Eastern Europe and 3 weeks in Central Europe.
USA and Canada
Of course, these two countries next to each other are great destinations for winter and not only for skiing. There are so many things you can do here during this season. Canada even promotes their winter season as the time of the year you can see polar bears in Manitoba.
Chile and Argentina
Chile, alongside Argentina, is the gateway to Antarctica. These two countries have lots of places to go skiing, snowboarding, and other fun winter activities. It's cheaper than North America and Central Europe but offers great slopes and experiences.
Check out our 3 weeks in South America and 3 weeks in Chile itineraries.
Japan/South Korea
For Asia, the most accessible ski destinations are Japan and South Korea, it can be pricy but a bit more affordable than in Europe or North America. These countries are also not very crowded, a great spot for beginner skiers.
Seasonal/All year round
These destinations can be visited either depending on the season or any time of the year. The most important thing to remember is first to check when are the rainy seasons in each place. Then, if there's a destination you specifically want to see, research if it's open.
For example, if you want to explore Machu Picchu in Peru, it is closed during February for maintenance.
Peru
I had such great fun in Peru. It's one of the few places in the world that offers you surfing on the beach to hiking mountains in a span of 3 weeks. The capital, Lima is sitting on the coast facing the Pacific and delivers strong winds and waves, perfect for any water and wind activities.
On the other hand, it's the home of the one and only, Machu Picchu. Although getting to Machu Picchu takes a bit of a journey, it will be worth it. You can fly from Lima to Cusco in just over an hour and take a 3-hour train you will see the beautiful ruins of the Inca. If you want to hike, that's also an option that will take you 2-4 days to do so.
Peru is perfect for a 3-week trip, the country is neither small nor too big. It's perfect without rushing you to move or getting bored during this entire period. Check out our 3 weeks in Peru itinerary to give you an idea.
RELATED POSTS: 3 weeks in Colombia or 3 weeks in Colombia and Ecuador
South Africa
3 weeks holiday in South Africa will be filled with visiting the most southern point of Africa, seeing two great oceans (Indian and Atlantic) clash with each other, and going on a Safari to spot the world's most beautiful wild animals in their natural living. South Africa has so much to offer its visitors that you will not be disappointed.
During my visit, I enjoyed a self-drive in Kruer Park, visited Johannesburg, saw the penguin at Cape of Good Hope, and roamed the streets of Cape Town.
When planning this trip, I recommend spending 5 days in Kruger Park, 5 days in Johannesburg, a week in Cape Town, and 4 days on Durban o Jeffrey's Bay for some surfing or beach time. We have an itinerary for 3 weeks in South Africa holiday.
Vietnam
If you are craving sun, beach, mountains, and good food – spending 3 weeks in Vietnam is a perfect choice. Because of Vietnam's geographical design, it's one of the easiest countries to explore. There are only two ways to travel around Vietnam: heading north or going south.
Vietnam is popular as a "top gear destination. This means tourists who come here drive their own motorbikes and explore the country on their own terms. But if that's not your cup of tea, there are also so many airports here you can easily hop between cities quickly.
Sapa is one of the most popular destinations in Vietnam, which fits those who love to hike and see scenic rice fields. Halong Bay and Phu Quoc are the two spots for beach activities, boat tours, cruises, and kayaking.
For the foodies out there, Vietnam will surely satisfy you. The home of the world-class dish Pho will be waiting for you. You should also try Bun Cha, Banh Mi, and Papaya or Mango Salad. For coffee drinkers, do you know that Vietnam is of the top 5 coffee exporters in the world? Definitely try the popular egg coffee during your visit.
If you only want to visit the Northern part of Vietnam or want to divide and conquer, you can combine Vietnam and Cambodia on your trip. We have a great guide on how to spend 3 weeks in Cambodia and Vietnam or go to Vietnam for 3 weeks.
Israel/Jordan/Palestine
This tri-country is an excellent destination to spend 3 weeks vacation on. Not only do they sit right next to each other, but also because you can base yourself in Israel and still visit all countries. Another reason is that visiting Jordan often requires 1-2 days, especially if you want to spend overnight at Bedouin camps.
You can easily spend 1 week in Israel exploring from Haifa, Nazareth, Tel Aviv, and Jerusalem to the Red Sea. Then hop on a bus or book a tour from Israel to Bethlehem, Ramallah, and Hebron for another week. Your last week can be spent exploring Jordan's famous Wadi Rum and Petra. We have a list of places to see when you visit that highlight Palestine, Israel, and Jordan tours.
Australia
The land down under may be a bit of a challenge to get to if you are coming from Europe, Africa, and the Americas, but it's definitely worth the trip. The home of the kangaroos, the Great Barrier Reef, and a hotspot for surfing, spending a 3 weeks holiday in Australia is so worth it.
Cities like Brisbane, Sydney, Adelaide, and Melbourne should be on your list. You can rent a car, drive down the East Coast, or take flights between these best attractions. If you want to visit the Great Barrier Reef, make sure to book a helicopter ride and go snorkelling or diving.
CHECK OUT: Can you spend 3 weeks in New Zealand?
East Europe
I love recommending East Europe to my friends and family. First, west, central, and southern Europe is crowded yearly with tourists and have become very expensive. On the other hand, East Europe will give you all the European atmosphere you are looking for without burning a hole in your pocket.
From the charming little cobblestone streets of the Baltics to the rich culture of the Balkans, East Europe deserves a visit from you. Head to Croatia for stunning beaches, Romania for traditional European dishes, the Czech Republic for the best beer in the region, or Bulgaria for a chance to swim the Black Sea. You can easily spend 3 weeks in East Europe and not find a day you feel bored or want to leave early.
If you are up for some adventure and more independent travel, you should rent a car. Since most parts of Europe have an open border, it is very easy to travel here by car and find a car rental company that allows you to bring it to cross borders. If you are on a budget, perhaps this list of places to see in Europe in 3 weeks on a budget will be helpful.
USA
I personally think the US is the only country that can honestly be visited all year round if you visit during summer, head to Florida and California. Winter? No problem, enjoy skiing nearly everywhere. Spring or autumn? Go to Vermont, Massachusetts, and even Texas. We have an itinerary for general 3 weeks in the US and how to do road trips on the west coast of the US.
The USA is probably the land of the national parks. It is filled with the best national parks in the world. From Yellowstone, Grand Canyon, and Glacier National Park to Rocky Mountain, these places are so unique. Road-tripping is also a great way to travel in this country.
There are many states where you can find awesome routes. A road trip to Arizona is where you will find the stunning Grand Canyon, and driving around California is where Yosemite is located – these are just to name a few. Although it's such a prominent place, it's better to plan your travel itinerary and stick to one area – road-tripping on East Coast or the West Coast.
If you want to explore a less popular destination in the US; mid-America, northwest, and the south have so much to offer. For example, Texas is such a huge state to spend 3 weeks here, you can visit so many attractions. Head to Austin if you like attending concerts or Galveston for water activities – that's just to name a few. There are more amazing places to visit in Texas and other parts of the US, no matter the season.
There are also loads of flights here, and each state definitely has their own major airport, so flying will not be an issue. The US is massive. Hence, you need to plan accordingly which places or regions you want to spend 3 weeks in the US during this visit.
Some of the best places to visit are California, Boston, Washing D.C, and New York. Go catch some waves in California or discover the Death Valley National Park or visit historical cities in Boston and Washing D.C. In Chicago, don't forget to take a look at the Cloud Gate and the famous Skydeck.
And of course, see a show in New York or, and not many people know this, there many best hiking trails in New York too. While for a beach holiday, you have Florida.
Food tripping here is also a must. American food might not be remarkable for being a healthy food choice, but it's home to the best dishes like burgers, buffalo wings, and deep-fried pizza. But don't worry, for a healthy trip, veganism and a plant-based diet are also popular here. This means you can find a healthy version of Mexican, Italian, and local dishes.
FINAL TIPS ON 3 WEEK HOLIDAY DESTINATION LIST
There is no right or wrong when choosing a destination to spend your holiday. The only two things that will matter are deciding what's best for you. Be that in the kind of holiday or how much you are willing to spend or save. And second, be polite and sensitive, and do your research on the do's and don't's of the place you are visiting.
Did you enjoy this list of places to spend a 3 weeks holiday? I hope that you found useful tips here and that I help you decide on your next holiday trip. Remember, have fun and make the most out of your vacation.
SAVE THIS 3 WEEKS HOLIDAY DESTINATION LIST ON YOUR PINTEREST: