When I think of Central America, my mind just goes to those white-sand beaches, clear blue water, and exciting water activities. While that sounds amazing, Central America has so much more to offer. There are loads of hiking trails to explore, culture to learn, and delicious food to try.
In this article, I will discuss 3 weeks in Central America itinerary. I will show not only the best beaches to visit but also which places to explore if you are a food or want to conquer some mountains. I will also include how many days you should stay in each place and how to get from one country to another.
RELATED POST: 3 weeks South America itineraries
THINGS TO KNOW BEFORE TRAVELLING TO CENTRAL AMERICA
Before you book your trip to Central America, check out these travel tips and very essential things you should know before going. You don't want to get to the airport or arrive at your destination just to be told that you cannot board the flight or enter the country.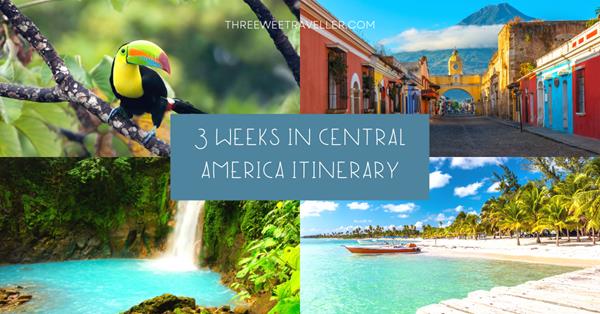 When is the best time to visit Central America
It's best to visit Central America between December to May. From December until February, the temperature is cooler and there's barely any humidity. There's also almost no rain, meaning your beach plans don't have to get ruined. On the other hand, it is peak time, which means the prices of accommodations, flights, and even tours are much higher and the crowd is bigger.
If you visit between March to May, it's less crowded and still has a low chance of rain but it's very hot and humid. The typhoon season in Central America is between June to November, which you really want to avoid. The only good thing during these months is the promo discounts in hotels and activities and of course, a smaller crowd.
COVID advisories
Here's a list of the most reliable sites for travel advisory in the region of Central America. Check these sites before you book anything to stay up to date with any travel changes:
Visa policies
Antigua and Barbuda – passport holders of Latin America, North America, Europe, some Asia and Oceania can receive visa-free for 30-180 days. While the rest of the world can apply for an electronic visa
Aruba, Curacao, and Sint Maarten – countries holding passports from Latin America. North America, Europe, some East Europe, and some Oceania can enjoy a free visa for 90 days
Barbados – most countries in America, Europe, Central Asia, some Africa, Southeast Asia, and Oceania will receive visas for free from 28-180 days
Cayman Island – to be granted a visa-free, your passport must from most Americas, Europe, South Africa, and Oceania
Costa Rica – you can enjoy 90 days of free visa if you are a national of countries in most Americas, Europe, Oceania, and some Southeast Asia
Cuba – almost every tourist has to obtain a tourist card to enter Cuba, except Russia, Mongolia, very few European countries and Central American countries
Dominica – almost all tourists from any country can enter Dominica free of visa for 180 days
Dominican Republic – if your passport is from the Americas (except Cuba), Europe, Oceania, and some Africa, Southeast Asia, and Middle Eastern countries, you can receive a visa for free for 90 days
Grenada – enter Grenada with 30-180 days visa-free for passport holders from most Americas, Europe, South Africa, South Asia, Oceania, East Asia, and some Southeast Asia
Guatemala and Honduras- travellers with passports from the Americas, Europe, South Africa, Oceania, and some Asia may enter for free and stay for up to 90 days
Jamaica – passport holders of Americas, Europe, some Africa, and Oceania will receive 90-180 days visa for free, while some European and Central Asian travellers can enjoy a visa on arrival (for a fee)
Nicaragua – offers up to 90 days to travellers with passports from almost all countries, except many Asian and African countries
Panama – stay up to 180 days if your passport is from the Americas, Europe, Oceania, and some African and Asian countries
St. Lucia – travellers holding passports from the Americas, Europe, Oceania, and South Africa can enjoy visa-free entry for 90-180 days, while many Asian and African countries can receive visas upon arrival
Trinidad and Tobago – you can enter visa-free for 90-180 days if your passport is from the Americas, Europe, some South Africa, and Asia. While Oceania travellers will receive visas on arrival
CHEAP DESTINATIONS FOR 3 WEEKS IN CENTRAL AMERICA
Central America is made up of numerous countries that have diverse cultures, histories, food, sights, and sceneries. We created a comprehensive guide for those who are planning to stay for 3 weeks in Central America. We divided the countries based on what activities you are fond of or what type of sights you want to see.
Beach and History
3 weeks in Central America is never complete without a visit to the beach. First on the list are the countries filled with beaches and history. Jamaica is one of those countries. Since it is an island, it has 50 public beaches and these don't include privately owned resorts, hotels, or luxury residential properties. The Dominican Republic on the other hand has more than 200 beaches while in Panama, there are more than 1,000 beaches which is nothing but amazing.
Beach and History Pinned Map
Jamaica
To spend 3 weeks in Central America, you must have Jamaica on your itinerary. Aside from having tons of beaches, Jamaica has also a rich culture. Music is a great part of their lifestyle, specifically the reggae genre. They are also very fond of arts and dancing. This country was first settled by a native American tribe called Arawaks. Here are some of the activities you could do include:
Snorkelling in Negril Beach – one of the most beautiful stretches of white sand in Jamaica. On the southern part of the beach, you'll find Negri's Cliffs where Cliff diving is very popular. I do want to remind you to not participate in any Dolphin actitivies.
River Rafting in Martha Brae – a great way to soak up the tropical scenery. Some of the guides even sing reggae songs to keep the tourists entertained.
Climb the natural tiers of Dunn's River Falls – then cool off in the pools found at the base. Some even offer whole-day tour packages which include visiting the village of Nine Mile, which is Bob Marley's birthplace, as well as Mystic Lagoon night boat ride and dinner.
Rainforest Adventures Mystic Mountain – you can zoom down the mountain through a single-person roller coaster ride called bobsled Jamaica. They also have zip lines, chairlifts, rope courses, and other rides.
Rose Hall Great House – which is a restored plantation house with scenic ocean views. You can take a day tour but if you're fond of scary stuff, you could opt for a spooky evening tour by candlelight instead.
Dominican Republic
Dominican Republic's recorded history started in 1492 when Christopher Columbus came across the island. By 1946, Spaniards set up their first Spanish Colony at Santo Domingo. This country is rich not only with history but offers stunning beaches as well. Some of the top attractions in the Dominican Republic are as follows:
Punta Cana – country's premier resort destination, where you'll get to swim or sunbathe to your heart's content at the Bavaro Beach. Book a Punta Cana to Saona Island Cruise or Catamaran Cruise and Snorkel.
Zona Colonial of Santo Domingo – enjoy the museums, crumbling ruins, and preserved buildings.
Cabarete – a more laid-back beach town compared to Punta Cana, this is perfect for those who prefer tranquil surroundings. You can also do some surfing or kiteboarding here.
Whale watching at Samana Bay – thousands of humpback whales enter the bay premises from December to March, these are the perfect months for this place if you want to see these beautiful creatures.
Las Terrenas – is the perfect place for those who are curious about Dominican culture.
Punta Cana – ziplining
Panama
Did you know that Panama is the only place in the world where you'll get to see the sunrise at the Pacific and set at the Atlantic? There are a lot more interesting things, sights, and activities in Panama, some of which include:
Bocas del Torro – is the main beach destination in the Caribbean for diving, surfing, and getting some tan.
Sunset Coast – is one of the very few places in Panama where you could watch the sunset over the Pacific ocean. If you're not convinced, read these reasons why you should visit Bocas del Torro.
Taboga Island and Catamaran Cruise – don't miss this fun activity
Hike up Baru Volcano and explore nature in Boquete, which is a hot spot for wildlife and nature. One of the rare species you can see here is the hummingbird. This is also the highest point of the country where you can enjoy that unique sunset and sunrise view.
Casco Viejo – immerse yourself in Panama's history as you stroll the streets. It is filled with historic ruins and colourful buildings.
San Blas Islands – picture-perfect islands, including palm trees, white sands, and crystal clear waters. You can explore these islands through a sailboat charter.
Culture and Nature
Now that we've finished discussing countries filled with beaches, the 3 weeks in Central America itinerary in this portion of the article is filled with natural scenery such as mountains, falls, and parks. Aside from that, I will also list places where you will be able to enjoy or immerse yourself in the country's culture.
Culture and Nature Pinned Map
Panama
Panama has so many great and beautiful natural sceneries. Not only glorious beaches can be found here but also plenty of locations for other activities. Here are some things to do in Panama:
Chagres National Park – enjoy a hike and visit the indigenoous Embera village and swim at a waterfall
Santa Fe and San Francisco – an undiscovered area of Panama where you can pass through mountains, ending in Santa Fe National Park. You'll also come across the town of San Francisco where you'll see one of the oldest churches in the country, which is the Iglesia de San Francisco de la Montana.
Join Canal and Jungle tour – you will visit the monkey island, San Lorenzo National Park, and Agua Clara visitor centre
Gamboa Rainforest – explore this forest with a naturalist guide, visit Gatun Lak, and enjoy a butterfly farm and orchids centre
Costa Rica
Spending 3 weeks holiday in Central America must include a visit to Costa Rica. A country filled with rainforests and with coastlines on the Pacific and Caribbean. If you love relaxing on the beach, check this list of beach towns in Costa Rica, each spot offering different activities.
Aside from beaches, this country is also well-known for its volcanoes and biodiversity. Costa Rica is perfect for adventurers at heart as there are tons of things to do to experience nature to the fullest.
Arenal Volcano – hike up then swim beneath the La Fortuna Waterfall afterwards. There are also 16 hanging bridges to cross in this whole day's adventure. – Join this all-in-one tour.
Rio Celeste, Sloth Sanctuary, and Llanos de Cortes Waterfall
Hacienda Guachipelin Tour – includes horseback riding, zipline tour, and tubing. You can even soak in natural hot springs and have a volcanic mud bath.
Tamarindo's beaches and forests through an ATV tour
Costa Rican National Museum – displays artworks that showcase various timelines of the country, including Pre-Columbian, Colonial, and Industrial to the most recent artworks.
Join this San Jose hanging bridges tour and Manuel Antonio Night Jungle tour
Guatemala
Guatemala is home to numerous rainforests, volcanoes, and ancient Mayan sites. It also contains preserved Spanish colonial buildings, not only is it rich in natural wonders but its inhabitants also have a diverse culture. Here are some of the things you can do in Guatemala:
Explore the Mayan ruins of Tikal – a huge complex and is spread throughout the jungle, it will take time and navigational prowess to complete the tour. You can join a day tour or Lake Atitlan Mayan ceremony tour.
Cool off in the turquoise pools of Semuc Champey. Aside from swimming to your heart's content, you can also candlelight cave tour and river tubing.
Antigua – filled with cobblestone streets and colourful buildings, you can even further immerse yourself in this tour by drinking Guatemalan coffee and visiting farms. Join the Pacaya Volcano trek tour.
Watch the Volcan Fuego erupt all night long. This activity is surely not for the faint of heart but there are tons of people who are fascinated by watching a volcano eruption live. This type of tourism is also approved by the government. There are multi-day trips to hike this volcano and Acatenango.
Town of San Marcos – a hippy town. They have various ceremonies, practices, and rituals that you could witness up close such as Temescal and cacao ceremonies. They also offer reiki healing sessions and yoga classes. You can even try being vegan for a day in this town.
FINAL TIPS ON CREATING 3 WEEKS CENTRAL AMERICA ITINERARY
If you want to visit more than 1 country, flying over the Caribbean Sea is most likely inevitable. When writing your travel plan, plenty of time between these flights to avoid rushing yourself every time you have to take a flight.
You should also remember the typhoon season, this region is experiencing heavy rains during this time while in summer, it can be scorching hot. These countries are popular destinations for North American tourists, it's vital that you plan and book your accommodations, flights, and tours ahead of time especially if you are coming during peak season.
I hope that you found this 3 weeks in Central America itinerary helpful. The countries listed here are magnificent and have so much to offer. Remember to take your time, and do activities that you love (if water activities aren't part of that – that's totally okay!). If you have any questions, let us know in the comment section below.
SAVE THIS TRAVEL ITINERARY ON YOUR PINTEREST: