Packing for summer is definitely one of my favourite things to do. Not only will I be spending 3 weeks under the sun sipping pina colada but mostly because it's the easiest holiday to manage. The clothing that summer requires is lightweight, so I sometimes don't even have to do any checked luggage.
If you compare it to winter, packing for a winter vacation is exhausting, and the luggage will always be heavy, and everything is bulky. But for summer, it's the opposite. I can even sneak in to do laundry in my hotel bathroom and dry it on the balcony. It saves laundry service fees and time!
I already have a general packing list for a 3-week vacation, but this one is specifically a packing for 3 weeks summer holiday. Items are must-packs and can simply buy when you arrive at your destination. We will talk about not only clothes but also things that many packing list articles forget, such as documents to bring, electronics, and in today's time – COVID items.
ALSO CHECK: 3-week winter packing list or 3-week spring packing list
CABIN BAG VS CHECK-IN
As I mentioned, packing is much lighter for summer vacation, but it doesn't mean you should feel guilty for checking in your bag or bringing more stuff. If you prefer not to buy anything at your destination (bring all toiletries), then checking in your luggage might be a better option.
For people travelling with children, it's also a better choice or if you plan to do shopping or souvenir shopping at your destination, make sure there's plenty of space in your check-in bag. Every time I visit Italy and France, I want a check-in bag because I know that I love clothing shopping there, and my family and friends will ask me to bring Italian coffee and French wine back.
I personally love no check-in bag, but I have to face the reality that after backpacking for a while, my back is starting to develop some pain, and I have to choose my battle wisely. Travelling on a cabin bag only helps me move around so much easier. I can quickly get in and out of the airport or get in a taxi. It's also easier to pack as I need to ensure everything I bring fits in a 7 kg luggage.
DOCUMENTS TO PREPARE
First, let's see which documents we need to either print or double-check that your dog hasn't chewed through them:
Passport – make sure it has at least 6 months validity left if you are going international, you should also make sure that it doesn't have wear and tear that obscures the important information
Copy of your passport – it's always wise to get a digital copy of your passport and a printed one
Flight reservation – you no longer need to print this, simply take a screenshot of the email reservation you received, unless, of course, you bought the ticket over-the-counter (if you are in Europe, remember to check in a day before your flight to avoid paying a silly fee!)
Hotel reservation – you also don't have to print this, but make sure it's handy since some destinations will ask you to fill out the address of your hotel
Travel insurance card – make sure it's still valid and valid in your destination
Yellow card fever vaccine certificate – depending on where you are going or coming, this might be a requirement (Australia definitely asked me for one because I was travelling from Africa to Australia)
Onward ticket – many countries require you to show a return or onward flight ticket to make sure that you are not staying longer than you are allowed to
Screenshot or write down important details – such as flight booking number, hotel reservation number, company of your airport transfer (these are all backed up in case there's no internet access at the airport of your destination)
Prescription from your doctor – if you are taking medication, this can be flagged at the airport, remember to bring the letter from your doctor regarding those pills
GADGETS AND ELECTRONICS/OTHERS
When I started travelling, smartphones were still in their infancy. At that time, I only had to pack my phone, charger, camera, and charger. Today, I have much more to pack (a lot more cable!). But then, if you don't need it, don't bring it. Here's a sample of what I usually pack:
phone charger
kindle
kindle charger
laptop and laptop charger – unless I'm taking a proper off from work
camera
camera charger
wired headphones
bluetooth earbuds
PACKING FOR 3 WEEKS SUMMER HOLIDAY FOR WOMEN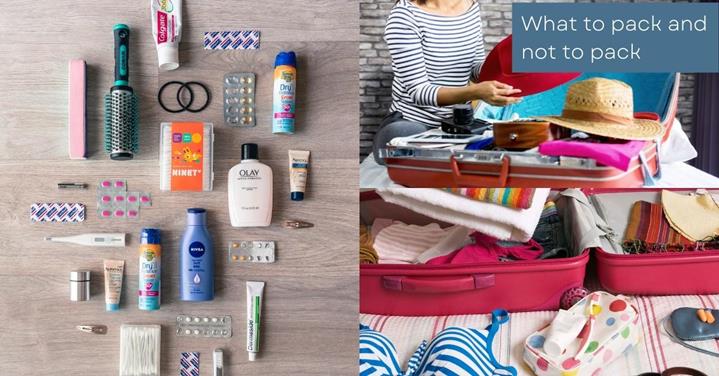 They say women overpack more than men – but I don't believe that. The things I pack (which I will show you below) fit in a cabin backpack, plus the gadgets list I just discussed,
Clothing and Footwear
3 lightweight/airy tops
2 summer/maxi dress
1 long hiking pants/sweat pants/yoga pant
3 shorts
2 spandex shorts
1 running/walking – it's bulky, so don't pack it, instead wear it on a flight
1 pair of flipflops/walking sandals
4 pairs of socks
7 underwear
2 bras
2 sport bras
Summer/Beach Items
1 lightweight sarong – can be used on the beach or when visiting churches or temples to cover the shoulder, head, or legs
3 pairs of swimsuits – 2 two-piece and a one-piece
sunscreen – if you don't have sensitive skin, you can buy one at the destination
sunnies/sunglasses
running hat/sun hat – or buy a cheap one at your destination
anti-buy spray – if you plan on taking a night cruise, this is a must
a dry bag – only bring a small one where you can put your wallet and phone or hotel keys
goggles – bring your own, let's be honest not easy to find comfortable goggles
Toiletries, Makeup, Skincare
I personally have a travel bottle sized of my toiletries and simply refill them every trip. I also use a high-grade ziplock (but it's heavy) or a kitchen ziplock if I don't want to check my bag in.
shampoo and conditioner bar – if you have easy-to-manage hair, get one at your destination
tablet toothpaste/tube toothpaste – can be bought at your destination
bar of soap – it's cheaper, easier to pack, and has no spillage versus liquid body soap
toothbrush – if you use an electric one, don't forget the charger
mouthwash – 100 ml for the flight, it's better to buy it after you land
deodorant
lightweight loofah
tampon/pads/menstrual cup – tampons are not easy to find in Asia
microfibre towel – although if I know I'm staying in a hotel (meaning no camping), I don't bring a towel
20 ml perfume
hairbrush/comb
I'm not a makeup kind of person (I'm simply not good). So, what I bring might be different from yours:
eyebrow liner
eyebrow brush/angle brush
mascara
pocket mirror
lipstick
liquid foundation
finishing powder
1-2 eyeshadow palette
I have pretty sensitive skin and tried a few brands. So far, these are the ones that work the best for me, and I always pack them when going on a trip:
PACKING FOR 3 WEEKS SUMMER HOLIDAY FOR MEN
For this part, one of our writers, Ryan has to give me a hand in creating what packing for 3 weeks summer holiday for men looks like:
Clothing and Footwear
4 airy and cotton t-shirts
2 pairs of shorts
1 long trousers – for hiking or other outdoor activities
7 pairs of underwear
1 lightweight long sleeves – a dress shirt of some kind
4 pairs of socks
walking or hiking shoes
flipflops or walking sandals – I always bring my Birkenstock with me
Summer/Beach Items
1 swimshorts
sunscreen – dry sunscreen if you're prone to acne
baseball hat/running hat
swimming goggles
sunglasses
Toiletries and Shaving Kit
1 toothbrush
1 tube of toothpaste (not more than 100ml unless you're checking in luggage)
1 bottle of mouthwash (not more than 100ml unless you're checking in luggage)
1 bottle of perfume
1 deodorant
1 bar of soap
1 bar of shampoo
1 small and lightweight loofa – it took me a long time to realise how great these are
1 microfibre towel – if staying in a hostel, other than that, hotels always provide one
travel size electric razor and shaving kit
FREE PACKING LIST
We made a packing list that you can print to help you organise your packing. You can download it here, check your spam/promotion tab in case the email ends up there:
COVID PACKING TIPS
With COVID still here, while international borders are opening up, the protocols are still in place. So, make sure to pack these items to make sure you will be allowed to enter your destination:
double-check if your destination is open for tourists
COVID vaccine certificate (make sure it's in English) – if the destination doesn't require this, you usually will be asked to quarantine for several days, so plan accordingly
negative test result – 72 hours prior to arrival
home test kits
masks
travel insurance – many countries require foreign tourists to show travel insurance that covers COVID treatments
hand sanitizer/rubbing alcohol
quarantine upon arrival – double check if this is needed, some destinations require at least 1 night in a hotel to wait for upon arrival test result
RECOMMENDED PACKING ITEMS
Many of you probably already have the backpack or suitcase you love. But if you want to you update, I will list my favourite luggage choices below. I'm also a fan of packing cubes and zipped bathroom bags too.
Backpack and suitcases:
I both have a backpack and a suitcase. For a winter trip, I definitely bring a bag since I will have my winter jacket, gloves, hat, and whatnot. But for a summer vacation, I can usually squeeze everything I need in a backpack and then bring a daypack or a purse.
Packing cubes:
Packing cubes made my travel life and packing so much easier. I'm not the most organised person but with packing cubes, everything is in place. The dirty clothes don't mix up with the clean ones. I also don't have to worry about spillage from my toiletry bag.
Toiletries bag:
This bag is fantastic. I pack everything that belongs to the bathroom. When I arrive at the hotel, I simply hang this bag in the bathroom, and everything is ready. No more bringing 2-3 small pouches in unpacking them in the bathroom sink. Not to mention, these are washable too.
FINAL WORDS
Packing for a holiday can be a daunting task and overwhelming at the same time. But now that you have an idea of what to bring for a summer vacation, it will help you make your own packing list and ensure you have everything you need. The only thing missing is your arrival at your destination. Next thing you know, you're enjoying a cold fresh coconut.
I hope that you found this packing for 3 weeks summer holiday helpful. If you have other tips and are happy to share them, you leave us a comment below.
SAVE THIS HOLIDAY PACKING TIPS ON YOUR PINTEREST: