When one thinks of a vacation, the mind always goes to the beach. Lying on a sunbed, sipping cold coconut (or cocktails), and a good book in hand. It's undeniable that the beach brings calm, serenity, and really gives a good break from the daily tugrind of life.
You worked hard and going on a holiday that relaxes you is something you deserve. Most people have a two or three-week annual vacation from work. When it's time to use and enjoy it, the destination has to be perfect regardless of what your budget is or which place gives you peace.
If you love the beach, water activities and island hopping, this list of best 3-week beach destinations will make you want to book your flight right away and enjoy that well-deserved break from work and life in general. I personally go to Europe for a summer vacation but it has really become more expensive and crowded.
I assume that I'm not the only person in this situation. I've decided to make a list of my favourite places to go to when I want to be near the water.
WHAT TO REMEMBER WHEN CHOOSING A BEACH VACATION PLACE
Here are some tips to help you decide which place to spend your 3-week beach destination. This information should also help you plan and create your itinerary. While you can take a look at our summer holiday packing list.
Budget
This is very important and definitely number one on your list. You should go to a place that is within your budget. Trying to visit a country that is too expensive for you at the moment will leave you being too stressed in planning and staying on your budget, to the point that you won't be able to enjoy your trip.
The most affordable destinations are in Southeast Asia. However, if you are coming all the way from Latin America and North America, the flight alone might take up half of your budget.
Activities
Next, list down the activities you want to do. We already know that you want to see nice beaches, but what else? Perhaps, you are an avid diver or someone who enjoys surfing. Once you have those things on the list, you will be able to narrow down your list of places to consider.
Distance from your origin
This one is important only if you have very limited time. You don't want to spend a day running around the airport and flying around trying to catch connections. If you have a week or two, choose a destination that has a direct flight from your origin.
However, if you have a 3-week holiday, you can definitely allocate a day or two to moving around.
Season
Finally, the season. Some people, because of their job or having young children have to take their vacation during a specific time of the year. For example, teachers and parents, usually go on a holiday when the school is on break. While people who work in a hospital, have a corporate job or don't have children, have more flexibility when they want to go on a vacation.
Another thing to remember is the season of the destinations you have in mind. Let's say you have to take your holiday during summer (June to August) and plan to visit Australia and expect a nice beach vacation Unfortunately, that's not possible. June to August is the winter season in Australia, New Zealand, South Africa, Chile, and pretlty much any country in the southern hemisphere.
Other basic travel tips
These are the tools and services I always use whenever I go on vacation:
BEST 3-WEEK BEACH DESTINATIONS
Regardless of where you are coming from and when you are coming to visit these places, each place offers the best resorts, beaches, and water activities – definitely worth the trip.
Each place listed will also show when is the best time to go. For example, the Philippines is a fantastic spot with stunning beaches but you don't really want to go during their own summer season because it's very hot. While the northern hemisphere summer season (June to August) is the typhoon season for the Philippines. I will also list the popular water activities to do in each place.
Maldives
It's undeniable how spectacular the islands of Maldives are. This South Asian country is sitting pretty in the middle of the Indian Ocean. It offers a perfect tropical holiday for those looking to relax and enjoy water activities. It is also filled with exquisite resorts and top-notch hospitality services.
If you spend your 3-week beach vacation in the Maldives, you will not run out of things to do especially water activities. Snorkelling and diving are the most popular attraction here, where you can see hundreds of marine animals in such crystal clear waters.
The Maldives is also a popular romantic destination. Whether you are looking for a honeymoon spot, a place to celebrate your anniversary, or even the perfect location to pop the question – Maldives should be of your top 3 choices.
The most popular beaches in the Maldives are Cocoa Island, Landaa Giraavaru, Baros, and Reethi Rah.
Best time to go: November to April
Most popular water activities: diving, snorkelling, beach bumming
Price range: medium to high; $80 and up per day
Mexico
Many North American tourists come to Mexico for many reasons. It's affordable, not too far, and has really one of the best beaches in the world. Historical sites such as Chichen Itza, Teotihuacan, and Tulum are also why many visitors choose Mexico for their beach holiday.
Depending on your style, you can spend as low as $40 a day on a vacation in Mexico. They have affordable accommodations and backpacker trails for those on a budget. However, that doesn't mean that they lack luxury resorts. Spending 3-weeks in Mexico is quite easy and full of adventures.
The most sought-after beaches in Mexico are Cancun, Playa del Carmen, and Cozumel – which are all facing the Caribbean. While Puerto Vallarta and Peruto Escondido face the stunning Pacific. Puerto Vallarta has started to gain a lot more attention in the past few years. Beaches in Puerto Vallarta range from busy nightlife to serene and quiet ones, you can definitely find something suitable for you.
. In many places in Mexico, you can enjoy and try water sports such as surfing, white water rafting, and kiteboarding. You can also sign up for snorkelling, kayaking, and rappelling.
Best time to go: November to March
Most popular water activities: surfing, boat trips, snorkelling, kiteboarding
Price range: affordable to high; $40 and up per day
Italy
Meditteranean Sea is simply the most popular summer destination not only for Europeans but also for international visitors to Italy. The south of Italy boasts a long and stunning fine coastline while offering one of the best cuisines in the world.
Planning your summer vacation in Italy will take you on exciting boat rides, visiting historical places, eating very delicious and authentic dishes, and sipping wine right from the backyard. The best beaches in Italy are Sardinia, Amalfi Positano, and Capri. You can cover all these in just 3-weeks in Italy.
But remember, when you book or plan your Italy itinerary, it's best to come before the peak season which is June to August. May and September are the sweet spots, the beaches are not too crowded and the accommodation and flight prices are still reasonable.
Best time to go: May to September
Most popular water activities: surfing, kitesurfing, canyoning, stand-up paddleboard
Price range: medium to high; $60 and up per day
>> ALSO CHECK: Best luxury hotels in Italy
Spain
West of Italy is Spain's coastline, its beaches are located facing the Balearic Sea and the Alboran Sea. The cities of Spain are known for being vibrant, colourful, and incredible destinations for the summer – you can definitely spend 3 weeks in Spain enjoying its beaches. Tourists from all over Europe consistently visit Spain during warm months, while international visitors make their way all the way here.
Spain is popular for its fantastic food, rich culture, and impressive beaches. The best sandy destination in Spain is Ibiza (for partying), Majorca, Tenerife, Gran Canaria, and Barcelona. If you are heading to the south, beaches in Malaga are also lined with resorts filled with tourists, but you there is not shortage of nice little quiet beaches to relax and enjoy your vacation.
Most travellers will simply lie on the beach, read a book, and enjoy a cold drink. But you can also do water activities such as speed boating, canoeing, scuba diving, windsurfing, and water skiing to name a few. If you are travelling with your family, there are plenty of family-friendly hotels in Spain that offers child-friendly amenities.
Best time to go: March to May or September to November, this will help you avoid big crowds and price hikes
Most popular water activities: speed boating, kayaking, scuba diving, and water skiing
Price range: medium to high; $80 and up per day
France
Another pride of Europe – is France. Do you know that France is the most visited country in the world? Statisticians claim that this is due to Eiffel Tower, but it can't be denied that it's also because of how beautiful the south of France is.
That region is where you will find the country's best beaches; from Nice which is the ideal summer destination to the southwest region where you can catch the best waves for surfing in Europe. France also offers one of the best wines in the world, making vineyard tours a must on your France itinerary.
Best time to go: April to September for the beach, but during winter, France draws a lot of ski lovers too
Most popular water activities: beach bumming, surfing, kite surfing
Price range: medium to high; $80 and up per day
Seychelles
Seychelles is located on the east side of Africa, northeast of Madagascar. There are a plethora of reasons why you should spend your summer vacation in Seychelles, but the most important is because of its wonderful and secluded beaches. If this is your first time, I'm sure you plan to explore Mahe, check out this guide to Mahe to help you plan your trip.
Do you know that most beaches in Seychelles are public yet not crowded? This means that you don't have to book a fancy resort to enjoy a quiet time during your trip. All you need is to find the best beaches on the island, book your flight, and pack your bags. You can also enjoy hiking around the island plus wonderful breathtaking activities.
Best time to go: April to May, then October to November
Most popular water activities: surfing, kayaking, sailing, scuba diving
Price range: high; $100 and up per day
Caribbean
We all know why the Caribbean is one of the best places for 3-week beach destinations. The water here is amazing, the sand is so fine and white, plus the locals are super friendly and accommodating. This is probably one of the most popular spots for honeymooners and those looking for perfect tranquillity. On the other hand, if you like diving, there are many diving spots in the Caribbean that will leave you in awe of its beauty.
Your well-deserved vacation will not be wasted if you decide to spend it in Central America. Listing all of the fabulous beaches in Central America will take my entire page. You can not go wrong at any destinations there. Other than beaches, you can also visit historical sites and areas abundant in wildlife. Check out our 3-weeks in Central America itinerary.
These are the best beaches in the Caribbean:
Seven Mile Beach, Grand Cayman
Grace Bay, Turks and Caicos
Varadero Beach, Cuba
Juanillo Beach, Dominican Republic
Flamenco Beach, Puerto Rico
Eagle Beach, Aruba
Pink Sands Beach, Bahamas
Best time to go: May, June, and November; December to February are still great but very busy
Most popular water activities:
Price range: medium to high; $80 and up per day
The Philippines
The Philippines is located in Southeast Asia. If you haven't been to this area, it's next to the Pacific and near Japan. This country is famous for its fine white sand beaches, diving spots, and great snorkelling places. It's also very affordable, which means spending 3 weeks should cost less than your monthly rent in North America, Europe, and Oceania.
The best beaches in the Philippines can be found in Boracay Island, Palawan, Siargao, Puerto Galera, and Cebu. Boracay has the best luxury resorts while the other ones have affordable accommodations and tours.
For snorkelling and diving, head to Boracay, Panglao, Palawan, Puerto Galera, and Cebu. For surfing, you should go to Siargao, La Union, and Baler. If you have 3-weeks in the Philippines, you can explore the popular spots, do water activities, and still have enough time to lazy out on the beach catching sunsets.
Best time to go: November to March – avoid December, it's too busy and prices are high
Most popular water activities: diving, snorkelling, island hopping, surfing
Price range: very affordable; $30 and up per day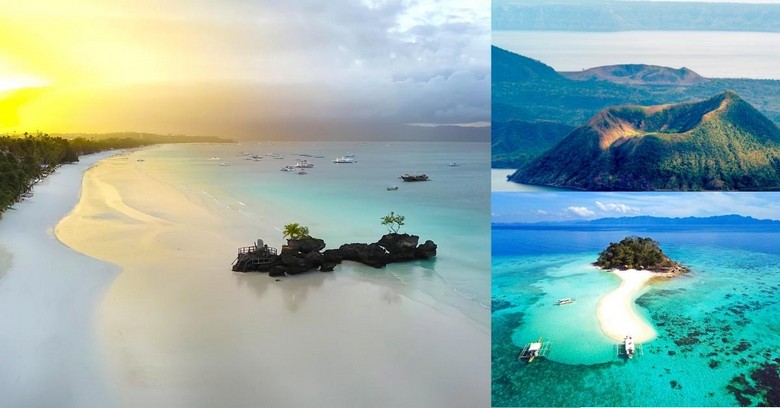 Greece
You can find Greece between the Aegean Sea and Ionian Sia, right by the fantastic Mediterranean. Greece is a more affordable beach destination in South Europe and the Mediterranean Sea compared to Spain and Italy while still offering wonderful and unique sandy beaches.
The most known beaches in Greece are Mykonos, Naxos, Corfu, Crete, and of course, Athens. It's so easy to spend 3 weeks in Greece exploring its coastlines, historical sites, and trying out the best food in the region. Make sure to also not miss some hiking trails and learn about Greek culture and its contribution to modern society.
Best time to go: April to October, least crowded from April to May and August to October
Most popular water activities: kayaking, jet skiing, and scuba diving
Price range: very affordable; $40 and up per day
Thailand
Thailand is undeniably one of the most popular destinations for a beach vacation in the Philippines. In the last few decades, it has become the hub of Southeast Asia and offers direct flights to Europe, Oceania, Africa, and even all the way to North America.
Thailand is also affordable but at the same time, there are plenty of luxury resorts to choose from. A great destination for a solo traveller, family, and of course, those on a honeymoon. This is still a popular destination for backpackers who usually spend 3-weeks in Thailand.
Head to Phuket, Krabi, Koh Phangan, and Koh Samui. If you get tired of the sand on your feet, you can go to the north where you can enjoy some hiking and yoga retreats.
Best time to go: November to April
Most popular water activities: diving, snorkelling, island hopping
Price range: very affordable; $30 and up per day
Indonesia
Indonesia has one of the most diverse natures and wildlife in the world. The entire country is composed of 17,000 islands, 147 volcanoes (where 76 are active), and spans through the Indian Ocean to the Pacific Ocean. Indonesia today is popular as a backpacker route, surfing capital in Southeast Asia, and stunning yoga retreats.
Getting to Indonesia is quite easy, due to its popularity, there are direct flights from Europe, North America, and Oceania. While getting from one island or one city to another shouldn't be a challenge either, there are many domestic flights across the country.
If you are a vegetarian, you can enjoy the local cuisine pretty easy since many dishes are meat-free. The most famous beaches in Indonesia can be found in Bali, Kuta, and Lombok.
Best time to go: April to September, but July and August are the least busy
Most popular water activities: surfing
Price range: very affordable; $30 and up per day
Croatia
Croatia is situated on the Adriatic Sea, across Italy. In the last few decades, Croatia has been a popular beach destination in Southeast Europe, the TV show Game of Thrones made the country even more sought-after by having spectacular scenes filmed in Croatia.
Being an affordable destination with stunning beaches is simply a great combination to attract more visitors. Whether you are travelling alone, with your partner, or with children, Croatia has something for everyone. The most popular beaches in Croatia are Dubrovnik, Split, Makarska, Brac, and Pag Island just to name a few.
Best time to go: April to September, April to May and August to September are the least busy
Most popular water activities: kayaking and rafting
Price range: very affordable; $40 and up per day
Australia
When summer in Australia is being talked about, we are thinking of its awesome, giant waves for surfing and of course, the very unique Great Barrier Reef. This spot is the dream destination for diving and snorkelling enthusiasts.
The East Coast of Australia is one of the best surfing areas in the world. There are spots for beginners up to athlete surfers. During your 3-weeks in Australia, you can also visit Sydney, Brisbane, and Melbourne which are all coastal cities.
Seasons are different in Australia though. Due to it being in the southern hemisphere, their summer is from December until February. This is an important thing to know before you book your flight.
Best time to go: November to March
Most popular water activities: surfing, snorkelling, scuba diving
Price range: high; $100 and up per day
USA
This massive North American country has popular beaches known across the world. Head to Florida or California if you want to spend a beach vacation in the US. Both states have different things to offer. For example, for a completely relaxing holiday, Florida is the spot for you. But if you want some adventure, you can surf in California and visit national parks.
If you are travelling with your children, there are many amazing beaches in California for families, and you can also bring them to fantastic theme parks. Florida beaches are also not a bad choice, the humidity can be challenging for some people, but the water and scenery are simply incredible.
There are also other states along the coast, which include Texas, Louisiana, Oregon, Massachusetts, and Georgia to name a few. The best way to travel around the US is to rent a car or take domestic flights. Take a look at our 3-weeks in the US travel itinerary or our 3 weeks on the west coast of the US.
Best time to go: March to April or September to October for both states
Most popular water activities: surfing, beach bumming, boating, standup paddleboarding
Price range: high; $100 and up per day
SUMMARY OF BEST 3-WEEK BEACH DESTINATIONS
Choosing where to go to spend your hard-earned and well-deserved vacation can be stressful and overwhelming. There are too many places to choose from and very little time. I say, listen to yourself; body and mind.
If planning a massive trip that will take nearly 24 hours to get to stress you out, perhaps that's not suitable for now. Choose somewhere closer to you. Remember, this is a vacation, not a marathon. Go somewhere that won't put you into debt, make you have sleepless nights, and end up feeling more like a responsibility than something to look forward to.
The bottomline is, that there are many beautiful 3-week beach destinations to choose from. Go with something that sounds the best for you and makes you want to pack your bags right away.
SAVE THESE TRAVEL TIPS ON YOUR PINTEREST: