The Philippines is one of the most diverse countries in Southeast Asia. The culture, language, and traditions are split between Asia, Spanish, and even the Pacific.
It is a popular destination for beach holidays due to the many scenic beaches, diving spots, and snorkelling adventures a traveller can do here. Many visitors don't know that the Philippines is also an ideal destination for hiking.
In this article, I will show you a sample of 3 weeks in the Philippines itinerary covering all major regions, including fun activities. Most flights to the Philippines are direct from the US and some from Europe. The most popular connections are Hong Kong, the Middle East, Singapore, and Thailand.
MIGHT BE OF INTEREST: 3 weeks in Thailand and 3 weeks in Indonesia
THINGS TO KNOW BEFORE GOING TO THE PHILIPPINES
Before you start packing your swimsuit, there are things you should remember that will help you write or plan your own itinerary that suits you. These tips should help you write your travel itinerary and create a better packing list.
When is the best time to travel to the Philippines
The best travel time is between November and March because these are generally the dry seasons. December to February offers such an amazingly cool and dry season. I highly recommend you avoid April and May, when it's too hot to do anything.
While June to September is prone to typhoons which are not only a bad time for any beach holiday but also lead to many flight cancellations.
ALSO READ: Best beach destinations for a 3-week trip and how to plan a beach vacation
Are 3 weeks enough for the Philippines
3 weeks in the Philippines is a reasonable amount of time. Of course, the more, the better. However, having limited time doesn't mean you shouldn't visit. In 20 days, you can visit cities, explore the islands, go hiking, and learn about the country's rich culture.
To make the most of your time, it's best to take a domestic flight when possible instead of travelling on the road. It's also essential to have some sort of itinerary to have a visual idea of your trip. This will also help you check how to get from one place to the other the best way.
Average cost of 3 weeks in the Philippines
This country is very affordable if you want to spend 20 days here. The accommodation is the most costly part of the trip compared to its neighbouring countries, but it offers lower quality. It's still cheaper than Europe or Norther America, though.
During my 20-day trip to the Philippines, I spent around $1,500. I travelled comfortably, stayed in private rooms in mid-range hotels and ate out the entire time. You can make it more affordable if you don't mind sleeping in bunk beds in a hostel and eating street food. A shoestring budget for the Philippines will be less than $900 for a 3-week trip.
If you plan to splurge a bit, perhaps you are on your annual holiday, wedding anniversary, or honeymoon, $2,500 will make your trip luxurious. A $100-a-night room will book you in a four or five-star resort, and you can dine at fancier restaurants.
Language and currency
You don't need to learn about basic phrases since English is one of the primary languages in the Philippines, together with Tagalog. Most of the street signs, the law, and announcements in public areas are in English.
The Philippine peso (PHP) is the currency here, and ATMs only spit out pesos. ATMs also only dispense a maximum of $200 (10,000 PHP per transaction. Cash is still the king here, but places like restaurants and hotels accept payment by bank card.
How to get around the Philippines
This country's primary means of transportation, especially in rural places, are tricycles, not cabs. You can use ride-hailing apps like Grab (car and motorbikes) and Angkas (motorbike) in the cities.
In Metro Manila, there are railways, however, these are very busy and often too crowded during rush hour. Due to its thousands of islands, the best way to get from one island to another is by bus, boat, or flying. You can rent a car in Manila, but it will cost a fortune to bring it on a shi. There are no global car rentals in Metro Manila, such as Avis, Budget, etc.
To get around Metro Manila, you can use the app "Grab" to book a car service and order food. But because of the traffic, it's best to use the app "Angkas" or "Joyride", a motorbike taxi. These apps are also operating in Cebu.
You can take taxis in some places within the island and provinces, but usually, a tricycle or bukyo, and jeepneys are the standard options. Jeepneys are hard to use though. Make sure to ask a local if the jeepney is going to the place you wish to go.
Flying can be a challenge here as well. There are no direct flights between islands in some areas, and you must connect back to Manila. This is the reason it's vital to plan your trip accordingly.
First, list the places you want to see and check how to get from one place to another. In this way, you can always avoid tracking back to Manila.
Visa and COVID-19 Policy
The Philippines is very welcoming, with both the locals and visa policies. Almost all nationalities get to enjoy free-visa between 30 to 59 days. At the same time, travellers with passports from South Asia, Central Asia, and some African countries have to apply for a visa beforehand.
Extending your visa is not a problem as well. Simply look for an immigration office near your current location while in the Philippines, and you can choose to extend your visa for a few days up to three months for a fee.
The Philippines is now open to tourists who are fully vaccinated. One must present their vaccination certificate (from WHO) or through your country's official department. Unvaccinated visitors must present a negative result of a rapid COVID-19 test. You should also fill out the eArrival Card 3 days before you arrive in the Philippines and screenshot the QR code.
It is still required to wear masks in public transportation and healthcare facilities such as hospitals, clinics, and pharmacies.
Other travel tips
TOP THINGS TO DO IN THE PHILIPPINES (pinned map)
Click the top-right logo to enlarge the map. Credit: map data: Google
3 WEEKS IN THE PHILIPPINES ITINERARY
The Philippines is a tropical country with 7,640 islands with three main geographical divisions; Luzon, Visayas and Mindanao. Since it is an archipelago, the Philippines is surrounded by lush trees, mountains and various bodies of water, making it a perfect destination for nature-related activities. Such as hiking and water activities.
Aside from that, this country is also brimming with diverse cuisines and cultures due to being colonised by the Spaniards, Japanese, and US Americans.
Week 1: Luzon for 6 days – Baguio, Tagaytay, and Ilocos
I only recommend you spend 2 days in Manila, the capital city. One, because it's super traffic, and two, there's little to do here regarding historical places (except Intramuros). However, it's a great area to do some street food exploration. You can also book a day trip to Tagaytay from Manila, which is a time-saver.
There are a lot of places to visit in Luzon alone, but these three places are some of the must-visits. The first one is the province of Benguet which consists of the city of Baguio, the summer capital of the Philippines. Baguio is famous for its cool climate and cooler places and activities for the whole family.
Two ways to reach Baguio; riding a bus or booking a private car. The fastest options would be to ride a taxi or drive, but they are also the most expensive. The bus ride is around 6 hours, and the ticket costs $15-$18 per person
Things to do in Metro Manila
Things to do in Baguio
BenCab Museum
Burnham Park
Attending the Panagbenga – Flower Festival in February
Mines View Observation Deck
Baguio Botanical Garden
Baguio City Public Market
Strawberry Picking – seasonal
Mount Pulag
Things to do in Tagaytay
Horseback riding at Taal Volcano Island – you can also do a full-day trip from Manila (horseback riding not included)
Puzzle Mansion Museum
Picnic Grove
Skyranch
People's Park
Fantasy World
Where to stay in Metro Manila
Where to stay in Tagaytay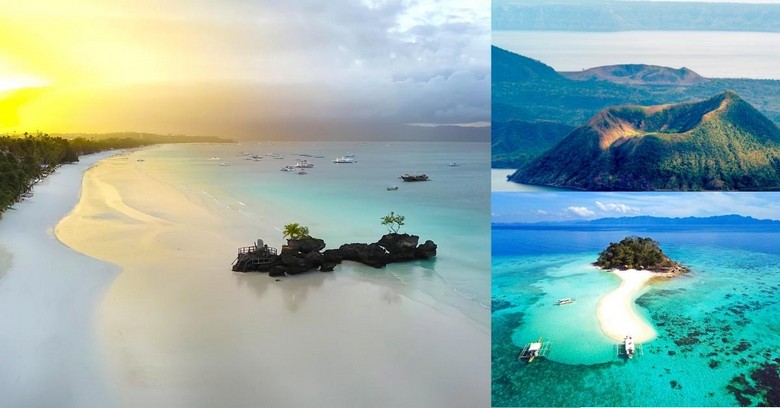 The region of Ilocos is well-known for its historic and well-preserved structures, as well as its beaches and sumptuous foods. It is north of Baguio.
Some of them include Vigan's longanisa and empanada, which are way different from the usual longanisas and empanadas.
To reach Ilocos from Baguio, you can take a bus which you can find at Partas Bus Terminal near SM Baguio. The travel time is approximately 5 hours, depending on the number of stops. You can also take a bus down to Laoag and then to Bantay Ilocos Sur. From there, Vigan is just a short ride.
Things to do in Ilocos
Vigan City – especially Calle Crisologo
Bangui Windmills
Sumaguing Cave
Bomod-ok Falls
Paoay Sand Dunes
Banaue Rice Terraces – is located 6 hours both from Vigan and Baguio
Where to stay in Ilocos
Affordable:
Mid-range:
Luxury:
Another way to approach Baguio and Ilocos: You can fly to Laoag, the only airport in Ilocos. Stay and explore for about 2-3 days, then take a nearly 5-hour bus south to Baguio for another 2-3 days. Then finally, head back to Manila by bus or car to take a flight to the Visayas.
Week 2: Visayas for 7 days – Boracay, Cebu, and Bohol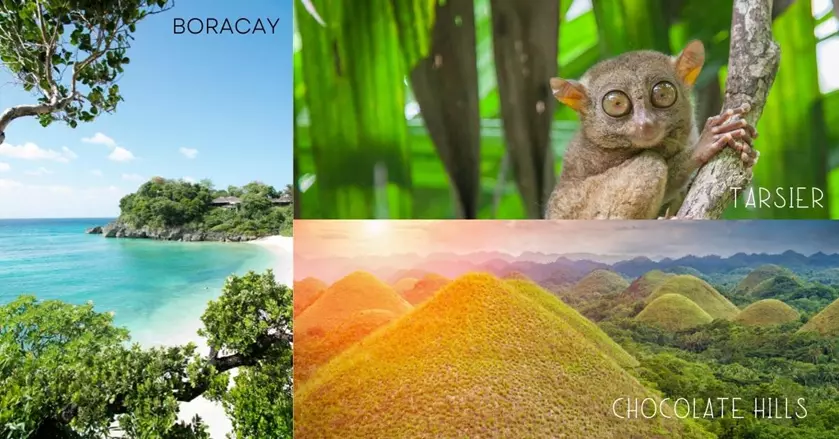 The archipelago of Visayas has so much to offer, from diverse culinary to scenic views and historical buildings and welcoming people. You'll find yourself falling in love with the place and staying there for at least 7 days during your 3 weeks in the Philippines.
20 days in the Philippines is incomplete without visiting the most-admired island in the country – Boracay. You can fly from Manila, but you have to travel down to Manila from Vigan/Ilocos. It's better to take a flight from Laoag to Boracay, which connects to Manila.
Boracay is known for its fine white sand beach, crystal clear water, and lively vibe in the evening. You can enjoy some boat trips, including island hopping, or sign up for some snorkelling and diving activities.
Boracay went through some cleanup and massive renovation to protect the island. It was closed for a period of time which was also timed during the outbreak of COVID-19. When Boracay finally opened up, the beach was much cleaner, the roads were better, and the water was much clearer too.
You will either land in Caticlan or Kalibo. From Caticlan, you will take the ferry to Boracay then an electric bukyo (tuktuk), motorbike taxi, shuttle bus, or service from your hotel/resort. You must take a 45-minute minivan ride from Kalibo to Caticlan, then the ferry.
Things to do in Boracay
Where to stay in Boracay
From Boracay, you can head to the city of Cebu. It is known as the Queen City of the South as it is Visayas's trade and industry hub. There are many water activities to do in Cebu. It's a great place to do some diving, snorkelling and canyoneering. Check out Kawasan Falls and Moalboal as day trips from Cebu City.
From Boracay, there are direct flights to Cebu, the travel time is around an hour, and the ticket costs $40-$90 per person. Caticlan offers a non-stop flight from Kalibo, you need to connect to Manila.
Next, head to Bohol. It is the tenth-largest island in the Philippines, famous for its beaches, national park, and resorts. Since bodies of water surround the Visayas, the most common mode of transportation is via ferry. The ferry travel time from Cebu Port to Tagbilaran or Tubigon in Bohol is about 2 hours.
However, for those who fear seasickness, there are choices for the faster ferry at a higher price. You have to ride a bus first before riding a ferry. Compared to those who opt to ride the ferry immediately, the travel time for this is between 4 to 6 hours. Your trip would be worth it because there are tons of things to do and see in Bohol.
Things to do in Cebu and Bohol
Kawasan Falls – go canyoneering, check the tour reviews and the price
Taoist Temple
Magellan's Cross
Mactan Shrine and Mactan Island – sign up for an island-hopping boat trip
Fort San Pedro
Chocolate Hills
Tarsier Conservation Sanctuary – you can do a Bohol day trip to cover all the top attractions in just a day
Loboc River Cruise
Hinagdanan Cave
Panglao Island – join a tour that covers Bohol and Panglao Island
We do not recommend Whale Shark watching in Oslob due to ethical reasons
TIP: You can also book a full-day tour to Bohol from Cebu to avoid staying overnight in the town.
Where to stay in Cebu
Week 3: Palawan or Siargao for 8 days
Palawan is famous for its seas and impressive biodiversity. It even has an underground river where you'll see various stalactites and stalagmites in the caves. There are three significant areas in Palawan; Coron, El Nido, and Puerto Princesa.
I recommend you choose between El Nido or Coron to spend 3 days, then head down to Puerto Princessa for 2 days. Both Coron and El Nido are famous spots for snorkelling and diving. If you are not a fan of those activities, you can simply fly directly to Puerto Princesa and go to Sabang, where the Underground River is.
There are direct flights from Cebu to Coron and Puerto Princesa. Unfortunately, no non-stop flights from Bohol to Coron or Puerto Princesa exist. All flights connect in Manila or Davao.
That's okay, though, because you can fly to Coron and then make your way down to Puerto Princesa, where you can finish your trip and take a flight back to Manila. Or you can do it the other way around. Fly from Cebu to Puerto Princesa, travel up north and end up in Coron, where you can fly directly back to Manila.
Things to do in Coron:
Things to do in El Nido
Las Cabañas Beach
Tour A – Bacuit Bay, Secret Lagoon, Shimizu Island, and Seven Commandos
Port Barton – located between El Nido and Puerto Princesa, a place away from big crowds
Tour B – Bacuit Bay, Popolkan Island, Snake Island, Cudugnon Cave, Cathedral Cave, Pinagbuyutan Island
Nacpan Beach
Tour D: Hidden Beaches and Lagoons
Things to do in Puerto Princesa
Where to stay in Palawan:
If you want to visit Siargao instead of Palawan, that's also a great choice. I used the word "or" because there are no direct flights between these places. You can fly directly to Siargao from Cebu, but you have to make a connection from Panglao.
Siargao is a teardrop-shaped island famous for being the surfing capital of the Philippines. There are also tons of other activities that you could do here, including rock climbing, cliff diving and the like.
Spending eight days in Palawan is easy, but over a week in Siargao can be too long. That many days in Siargao is perfect unless you're an avid surfer. If you like a laid-back setting where you spend hours on the beach or on a hammock, Siargao is an ideal place to end your 3 weeks in the Philippines
Some of the must-visit places in Siargao include:
SUMMARY OF 3 WEEKS IN THE PHILIPPINES
The Philippines is a beautiful country with many scenic spots and adrenaline-inducing activities. In fact, many other beautiful places and cities weren't included on the list because you would definitely have to extend your stay to these different places, including Rizal, Laguna, Batangas, Dumaguete, Siquijor, Boracay, and the archipelago of Mindanao.
Nevertheless, we hope you enjoyed this compilation of itineraries for a 3 weeks holiday in the Philippines. And in case the Philippines is not for you or unsuitable for your travel date, I recommend you check out our 3 weeks in Vietnam and Cambodia itinerary, spend solely in Vietnam for 3 weeks, or 3 weeks in Japan and South Korea.
SAVE THIS ITINERARY ON YOUR PINTEREST: