The US is such a massive country with so much to offer its visitors and locals. Due to its diverse magnificent attractions, you can easily explore different worlds featuring various natural wonders on the same day. At the same time, the west coast of the US has one of the most fantastic national parks to explore. Road-tripping in the US is one of the best ways to explore the country, especially on the west coast.
This guide will help you plan two different ways to explore the west coast of the US. You can explore it by road or a mixture of driving and taking domestic flights. Renting a car in the US is pretty easy. Most cars can be picked up at the airport, and finding flights should not be a big problem.
These itineraries for 3 weeks on west coast USA are both suitable for travelling in any season of the country, but good planning is required if you want to go during the peak season. June until August is the busiest month for travelling around the US.
>> CHECK-OUT: 2 itineraries for travelling around the east coast of the US for 3 weeks
THINGS TO KNOW BEFORE TRAVELLING TO WEST COAST USA
Planning a trip to a new place you have never been to can be challenging. The best way to start is, to begin with something easy such as deciding the places you really want to see and the time of the year you want to go. Here are things to help you plan and write your trip itinerary.
Getting around
We highly recommend you rent a car which is very easy to do in the US. It will give you the freedom to go anytime and anywhere. Don't worry about spending too much time in the car. You can also chop up the entire 3 weeks on west coast USA by travelling to the places near each other by car and then further by air.
You can also use public transportation such as a bus or train; although cheaper, they can be unreliable and not very flexible. Again, if you plan to travel during peak season, make sure to book your flight and car in advance, especially if you want a specific vehicle, such as a camping van or an electric one.
Best time to go
The best time to visit the west coast of the US depends on the activity you want to do. Many places for hiking and camping here are great to do during spring, summer, and even autumn. But if you want to go skiing, you definitely have to plan a trip for winter.
Visa and COVID-19 protocol
The US have one of the strictest visa policies in the world. Only a limited number of nationalities can enter the country and enjoy visa-free. If your passport is from Europe, Canada, some parts of Latin America, South Korea, Japan, Singapore, New Zealand, and Australia can enter and travel around the US without applying for a visa for six months maximum.
Those nationalities can enter and stay in the US for 90 to 180 days but are still required to get an ESTA in advance. Even after applying for a tourist visa, you can stay in the country for up to 6 months. That is plenty enough time for your 2-week in the USA holiday.
The US borders have been open for a while now and no longer require all travellers to present a negative test result. However, non-US citizens must show proof of COVID-19 vaccination. You should also remember to get medical insurance as a traveller in the US.
It's no secret that medical services are super expensive here. Thus, getting insurance is worth every penny. You also don't want the immigration officer to deny you entry if they find out you don't have insurance valid for the US.
Other travel tips
While planning your holiday, these websites and tools will help you book everything. From flight, accommodations, car rental, and even buying travel insurance. These are the sites I always use for my trips. I love how many of these travel services have a flexible cancellation policy that allows me to snatch reasonable prices even though I'm not sure about being able to make the trip.
PINNED MAP OF WEST COAST USA ATTRACTIONS
Click the enlarge button on the top right corner. Credit: map data: Google
2 WAYS TO TRAVEL THE WEST COAST
In this guide of 3 weeks on west coast USA, you will see two different ways how to travel. You can either travel around by doing a road trip all the way or do it with a mixture of driving and flying. Check below which one looks more appealing to you.
Full Road Trip
Duration: 21 days
Distance to cover: 2,027 miles (3,262.14 km)
Total driving hours: approx 35 hours
Average daily driving time: approx 4 hours/ day
Start: Los Angeles
End: Portland
Itinerary Overview
Day 1-3: Los Angeles
Day 4-5: Las Vegas
Day 6-8: Grand Canyon
Day 9-10: Zion National Park
Day 11-14: Salt Lake City
Day 12-15: Craters of The Moon National Monument
Day 15-18: Malheur National Forest
Day19-21: Portland
Road Trip and Flying
Duration: 20 days
Total driving hours: approx 25 hours
Total Flying hours: 7.5 hours
Start: Los Angeles
End: Seattle
Itinerary Overview
Day 1-3: Los Angeles
Day 4-5: Las Vegas
Day 6-8: Grand Canyon
Day 9-10: Zion National Park
Day 11: Fly to Bozeman Yellowstone International Airport
Day 11-14: Yellowstone National Park
Day 15-18: Bridget-Teton National Forest
Day 18: fly from Jackson Hole Airport to Seattle-Tacoma International Airport
Day 18-21: Seattle
3 WEEKS IN WEST COAST USA ITINERARY
12 states make up the west coast of USA. This includes Alaska, Arizona, California, Hawaii, Idaho, Montana, Nevada, New Mexico, Oregon, Utah, Washington, and Wyoming. However, for this trip, we will only cover six states: California, Nevada, Arizona, Idaho, Utah, and Washington.
Exploring the west coast of the US means you will see the country's great ancient and natural attractions. You will also explore the big cities, try local dishes, and visit Starbucks' home state. Below is a quick overview of your 3 weeks on the US west coast.
If it's your first time in the US, we have 3 weeks in the US itinerary that takes you to the most popular places across the entire country.
Los Angeles
Los Angeles is also renowned as the "City of Angels" and the location of celebrity-owned mansions. It is a great starting point on your 20 days on West Coast USA trip since it is home to incredible beaches, regional art, and varied culture that every traveller should see. Los Angeles is for you if you're looking for glamour and excitement.
Rather than exploring the city with public transportation, book a rental car to make the most of your trip, and consult with the rental company if it's possible to drop off the car in Seattle or other airports you plan to stop and switch to taking a flight. You can even go on a 26-mile day trip to Disneyland on I-5 South which takes around 30 minutes.
Besides theme parks, Los Angeles is also known for its unique surfing spots. Head to 27th St Manhattan Beach or the famous Venice Beach for some great waves. You can also explore your way around Los Angeles through its food culture. There are many places to eat in LA if you are looking for instagrammable spots, quick bites, or splurge at fancy restaurants.
Things to do in Los Angeles
Visit the Hollywood Sign
Visit the Hollywood Walk of Fame
Day trip to Angeles National Forest
Tour the Warner Bros. Studio – look at the cost
Day trip to Griffith Park
Visit Bradbury Building
Explore Universal Studios – check the schedule
Shop at Amoeba Music
Stroll along Sunset Strip
Attend a concert at Hollywood Bowl
You can also sign up for the "Ultimate Tour" that covers all must-see spots to save time
Where to stay in Los Angeles
Las Vegas
Las Vegas is referred to as the ultimate playground and attracts a wide range of tourists who want to experience its entertainment, gastronomy, and nightlife scene. There are various options available for people of all ages to enjoy. From incredible museums, performances, and interactive games to renowned hotels and restaurants, Vegas offers it all.
But do you know there are many things to do in Vegas besides gambling? This includes exploring Freemont Street, Downtown Container Park, and even a day trip to the Grand Canyon.
Depending on your route, expect to allocate at least 4 hrs on the road from Los Angeles to Vegas. The shortest and most common way, the I-15 N, takes roughly 4 hrs and 15 mins to complete across a distance of 270 miles (425 km). You'll enjoy the famous drive between Barstow and Victorville while travelling along this route.
You can also book a bus from Los Angeles to Las Vegas. That will take 5 hr and 10 mins. There are non-stop flights between these two cities that will only take 1 hr and 20 mins.
Things to do in Las Vegas
TIP: If you want to save time, you can also visit the Grand Canyon from Las Vegas by booking a group tour or helicopter tour.
Where to stay in Las Vegas
Grand Canyon
Tourists frequently visit the Grand Canyon due to its timeless beauty, which was made possible by untouched nature. In addition, the canyon itself provides a close-up view of the fascinating geological features, the array of rocks, and the numerous desert habitats that are otherwise impossible to witness without travelling to the location.
You can do many activities, including hiking, horseback riding, rafting, swimming, or just taking a leisurely stroll.
Spend a night inside the Grand Canyon Village, on Grand Canyon National Park's South Rim, where most tourists head while exploring the Canyon. While there are various places to stay overnight, the most renowned sought-after is El Tovar, which sits directly on the rim of the Canyon and offers an incredible view. Make sure to book ahead of time for cheaper rates.
Grand Canyon West Rim is the nearest entry point, about 128 miles (206 km) or roughly a 2 hr 30 mins drive from Las Vegas. The route passes through areas of Arizona as well as notable locations, including Boulder City, Hoover Dam, and Lake Mead.
Taking a bus or flying to the Grand Canyon can be tricky. If you want to fly to Flagstaff (the town where the Gran Canyon is), you'll have to take a flight to Flagstaff, which means you need to connect, which could take 3 to 4 hours. You can also fly to Phoenix Airport, requiring you to drive for nearly 5 hours to the Grand Canyon.
If you're not driving a rented vehicle, you can take a bus from Las Vegas to Flagstaff. That will take 6 hr and 40 mins. From Flagstaff, you can rent a car to explore the Grand Canyon or take a bus/train.
Things to do in Grand Canyon
Hike the Grand Canyon
Rafting Trip in the Grand Canyon National Park
Go on a Helicopter Tour Over the Canyon
Visit the Grand Canyon Skywalk
Explore the Grand Canyon National Park by Riding a Mule
Take a photo at Guano Point
You can save time and avoid driving aimlessly by purchasing a self-driving tour – also possible for walking on your own
Accommodations near Grand Canyon (Flagstaff)
Zion National Park
When you visit Zion National Park in Southern Utah, you'll be surrounded by the Earth's tallest sandstone skyscrapers, a vast night sky filled with a sea of stars, and a few of the most famous trails in the entire world. If you prefer being in nature and seeing wildlife, this park is for you.!
Zion National Park is home to 68 different species of mammals, ranging from bighorn sheep to the little kangaroo rat. Mule deer, foxes, rock squirrels, bighorn sheep, and bats are the most frequently sighted animals.
Springdale, just outside Zion National Park and set against one of the most spectacular mountain backdrops you will ever encounter, is the place to book accommodations for your Zion visit. This area is home to locally owned and operated hotels, bed and breakfasts, art galleries, restaurants, markets, tour guides, gift shops, and many more.
Your road trip starts in Desert View, near the park's Eastern border. Leave Grand Canyon through the east entrance and take Arizona State Route 64 toward Highway 89 for about 30 miles (48 km). With a distance of 252 miles (404.5 km), it takes around 5 hrs and 40 mins to travel directly from Grand Canyon to Zion National Park.
No buses will directly connect you from the Grand Canyon/Flagstaff to Zion National Park. But you can fly from Flagstaff to St George Regional Airport. From there, you can rent a vehicle to explore Zion National Park for the day since it's only an hour's drive from the airport.
TIP: You can book a Zion and Bryce Canyon tour from Las Vegas to save some time
Things to do in Zion National Park
Sightseeing along the Zion Canyon Scenic Drive
Hike the Angel's Landing
Hike the Narrows and Mountain of Mystery
Experience Rock Climbing and Canyoneering
Go on a Horseback Tour – see schedule available
Take a photo at Big Springs
Book a Stargazing Experience – check the price
Accommodations near Zion National Park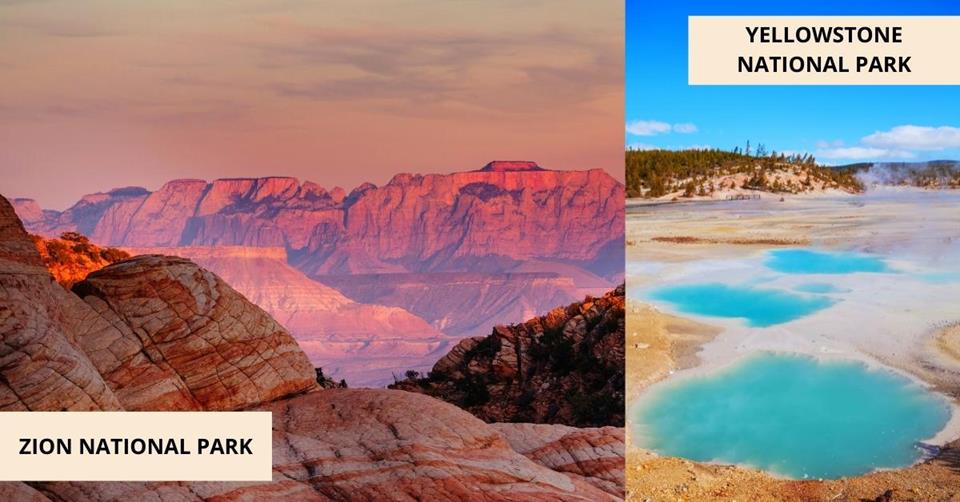 Salt Lake City
The capital of Utah, Salt Lake City, is a vibrant city filled with natural and historic attractions and often hosts the Olympic Winter Games. It is also known as the Mormons' spiritual home. Today, you can find excellent dining, shops, and various activities here in summer or winter.
The atmosphere is welcoming and laid back and provided easy access to urban and outdoor activities for tourists. You'll notice that things are generally hassle-free as soon as you arrive. Services and facilities are always nearby, the streets are clear and easy to travel to, public transportation runs on time, and a bike program allows you to roam the downtown area for a fee. 
Even though tourists frequently pass through Salt Lake City on their route to the neighbouring ski resorts and the bizarre red-rock landscapes, this increasingly diverse city is worth a comprehensive exploration. Learn about the city's Mormon background, see the unique museums' exhibits, and dine at one of the city's hippest restaurants -The Park Cafe,s to try the local cuisine and drinks.
The direct drive from Zion National Park to Salt Lake City is around 5 hours, covering a distance of 300 miles (483 km). You can keep your rented car from St George Regional Airport to bring it to Salt Lake City, or you can also board a bus and travel for 4 hrs and 40 mins. There are non-stop flights as well if you want more convenience.
Things to do in Salt Lake City
Visit Temple Square
Book a Guided Bus Tour – this will save you time and give you a break from driving, check the reviews or do a bike loop tour
Visit Mormon Temple
Explore the National History Museum of Utah
Watch the Tabernacle Choir – get your ticket
Explore the Big Cottonwood Canyon
Don't miss a Sunset Tour – check the price
See Bird Exhibits at Tracy Aviary
Ski at nearby Ski Resorts (Snowbird, Brighton Resort, Park City Mountain)
Tour the State Capitol
Unwind at Liberty Park
Have fun doing a Brewery Tour or Haunted Old Town Tour
Accommodations in Salt Lake City
Craters of The Moon National Monument
Craters of the Moon is a massive national park. It is nearly the same size as Rhode Island at around 750,000 acres. In South-Central Idaho, the monument covers over 53,500 acres of lava flows and volcanic landforms on the Northern edge of the Snake River Plain. Although there aren't many tours available here, many camping options exist.
While Craters of the Moon may appear barren, it is home to small desert rodents, including bobcats, bats, foxes, owls, mountain lions, and nighthawks. The park's animals will be active depending on the weather and the time of the day.
If you're looking for a place to stay, head over to Pocatello, the largest city in Southeast Idaho. It is an excellent starting point due to its convenient location at Highways 15 and 86 junction. To secure a slot near the tourist centre, make sure to plan your stay accordingly.!
The direct drive from Salt Lake City to Craters of the Moon National Monument takes around 3 hr 4 mins through the US-26 W and I-15 N, covering a distance of 345 miles (555 km). You can ride a bus from Salt Lake City to Boise (Idaho), which will take 7 hours; from there, you can rent a car to visit Craters of the Moon. There are also direct flights between Salt Lake City and Boise.
Things to do at Craters of The Moon National Monument
Explore the Craters of the Moon Center
Explore a Caves Trail
Hike the Tree Molds Trail
Hike the Inferno Cone
Ski at Blizzard Mountain Ski Hill
Malheur National Forest
The Malheur National Forest is a secluded and stunning landscape located in Eastern Oregon's Blue Mountains. Adventure awaits everyone with its 1.7 million acres of land, wilderness areas, lakes, streams, and hundreds of peaks.
Nearly every camping is possible here, including developed campgrounds, backpacking, roadside camping, and RV camping. The Scenic Malheur Rivers and other noteworthy locations like the Cedar Grove Botanical Area can be reached by over 240 miles (386 km) of trails, primarily in wilderness areas.
The direct drive from Idaho to Malheur National Forest takes around 6 hrs 35 mins via I-84 W and US-20 W, covering a distance of 307.7 miles (495 km). If you rented a vehicle in Boise, I recommend you keep it and drive yourself to Malheur National Forest (see if you can drop it off there).
Things to do in Malheur National Forest
Explore Strawberry Mountain Wilderness
Explore Monument Rock Wilderness
Hike the Cedar Grove Botanical Trail
Visit Malheur River
Visit Magone Lake
Visit Kam Wah Chung State Heritage Site
Seattle
Due to its spectacular evergreen forests, Seattle is frequently called the "Emerald City". You'll never run out of things to do and sights to see here. Popular outdoor activities include hiking, camping, kayaking, and even whale watching!
Seattle is also the largest city in Washington and is home to significant tech industries, including the corporate headquarters of Amazon and Microsoft. It is also famous for being the birthplace of Starbucks. It is guaranteed to be popular with coffee lovers, especially considering that nearly 2,000 coffee shops are reportedly spread out around the city.
This city is a great place to end your three weeks on west coast USA trip since it has many food and music festivals. Also, ski slopes are only a short trip away, and several locations in the city offer views of the massive Mount Rainier and the adjacent Olympic Mountains. Take a break from long drives and spend some time in the town with many recreational activities and cocktail establishments.
The direct drive from Malheur National Forest to Seattle is around 7 hours and 40 minutes, travelling through 90 and E and 81 E.
Things to do in Seattle
Accommodations in Seattle
IMPORTANT TO REMEMBER FOR THOSE FLYING AND DRIVING
For those mixing flying and driving, it's time to leave your car at St. George Regional Airport after Zion National Park and take a flight to Bozeman Yellowstone International Airport. Unfortunately, there are no direct flights from St. George Regional Airport (Utah) to Bozeman Yellowstone Airport. The shortest flight has one layover and takes around 4 hrs 30 mins.
Yellowstone National Park
3 weeks on west coast USA is incomplete without visiting Yellowstone National Park. Yellowstone is an active volcano that many scientists always keep an eye on for the possibility of an eruption. Every year, there are 700-3,000 earthquakes caused by the volcano.
Yellowstone National Park is a paradise for outdoor enthusiasts with its breathtaking peaks and crystal-clear lakes. Colourful pools surround hot springs, lush woods wind through wide-open meadows, and erratic geysers shoot streams of scorching water into the air.
Expect to share the trails with year-round dwellers like elk, buffalo, and occasionally even grizzlies as you trek through this over 3,000-square miles landscape. If you want to be adventurous, why not go white rafting in Yellowstone to shake things up? Children as young as 6 years old can even go with you.
If you enjoy staying active while travelling, this park is perfect since it offers limitless hiking opportunities. Approximately 900 miles (1449 km) of trails in Yellowstone can be travelled. Some treks are short and straightforward, while others are long and difficult, rising over 7,000 ft. above sea level.
Renting a car in Bozeman is recommended to explore the area effectively. Book early to obtain the best rental car deal for your trip. Get lodging close to the Bozeman Airport to avoid traffic delays and get a good night's rest before departure.
Things to do in Yellowstone National Park
Hike Yellowstone's Grand Canyon
Visit Mammoth Hot Springs
Visit Old Faithful
Visit the Grand Prismatic Springs
Bridget-Teton National Forest
With 3.4 million acres, the Bridger-Teton National Forest is close to Grand Teton, National Elk Refuge, and Yellowstone. One of the many activities offered to visitors on the Bridger-Teton includes horseback riding, off-road vehicle tours, mountain biking, and rock climbing. In addition, the Bridger-Teton has three ski resorts, all providing thrilling downhill routes for snowboarders and skiers every winter.
Meanwhile, the 2,200 trails for varying skill levels in the Bridger-Teton National Forest include 37 constructed campgrounds and 34 marked trailheads, ideal for novice and experienced hikers. If you have a hunting license from the Wyoming Department, you can even take advantage of the hunting opportunities.
The distance from Bozeman to Bridget-Teton National Forest is 190 miles (306 km), and it takes around 4 hrs and 2 mins to travel during regular traffic.
Things to do in Bridget-Teton National Forest
Try Skiing and Snowboarding at Jackson Hole Mountain Resort
Visit the National Museum of Wildlife Art
Hike the Teston Crest Trail
Explore Jackson Town Square
Accommodations near Bridget-Teton National Forest
Flight from Jackson Hole Airport to Seattle-Tacoma International Airport is about 2-6 hours, depending on the connection.
SUMMARY OF 3-WEEKS IN WEST COAST USA
The West Coast is the ideal playground for people who are happiest outdoors. There is a lot to discover in this region of the United States, which offers breathtaking sceneries, music festivals, deserts, and abundant rivers.
Whether you're interested in hiking the mountains, kayaking around mirror-effect lakes, or engaging in snow sports, the West Coast offers one of the most fabulous outdoor lifestyles in America. There will never be a dull moment during your 3 weeks on west Coast USA trip.
SAVE THIS TRAVEL ITINERARY ON YOUR PINTEREST: