When we hear Scandinavia, our minds will go to the words "expensive" or "high-cost". Which is not far from the truth. Scandinavia is expensive to live in and expensive to travel to. However, this part of the world is always among the top places to see for many people for a reason. Scandinavia has to be on your bucket list, and you must visit this region at least once n your lifetime.
Scandinavia has very unique dishes, beautiful mountains, stunning architecture, rich culture, and of course, this part of the world is one of the oldest countries in the world. Not to mention how easy it is to get around since many locals speak excellent English regardless of age.
The most fantastic cities can also be found in Scandinavia; Copenhagen, Oslo, and Stockholm are the popular capital cities for their charm and uniqueness.
In this article, I will help you write your 3 weeks in Scandinavia itinerary. From the best time to go, places to see, food to definitely try, where to stay, must-not-miss, and other travel trips to ensure you have an incredible holiday in Scandinavia.
WHAT TO KNOW ABOUT TRAVELLING TO SCANDINAVIA
Before we start talking about places that you must visit during your time in Scandinavia, there are some basic things you should know and remember. These will help you create your itinerary and prepare for your trip. We also have a general packing list for a 3-week trip, we have a packing list for summer and for winter.
There are only three countries in Scandinavia which are Norway, Denmark, and Sweden. Many people mixed up Scandinavian countries with Nordic countries. In Nordic countries, you have Norway, Denmark, Sweden, Iceland, and Finland.
ANOTHER READ: Tips for travelling to Iceland
Personally, I love Scandinavia during summer. Not only is the weather great, but it's also not super rainy or super hot. People are often in the best mood and in a festive vibe. One thing that you should keep in mind is the summer sun.
During the peak of the summer, the sun goes down around nine in the evening. If you go to a much northern area, like Svalbard, the sun almost doesn't go down.
But of course, during winter, places like Fjords have an ambience like nowhere else in the world and winter activities are much more enjoyable. The best time to go to Scandinavia depends on which activities you are planning to do. For winter, visit between November to February. For summer comes travel from June until August.
The money currencies across Scandinavian countries are not much different from each other. They are all in form of crown or krone(NOK)/kroner(DKK)/krona(SEK). Paying with international credit/debit cards will not be a problem at all, and you should be able to find ATMs nearly everywhere. Money exchange kiosks can only be found in big cities next to train or bus stations.
Restaurants, hotels, bars, grocery stores, boutique shops, cafes, and even barber shops accept payments with a bank card or card.
TIP: NOK and SEK are at US$1= 8.5 nok/sek, while DKK is at US$1= 6.5 dkk.
Just like money currency, languages across Scandinavian countries are also very much alike. The spelling and pronunciations are clearly different but still have lots of similarities.
You should not have a problem travelling in Norway, Denmark, and Sweden if you don't speak the local language. Around 90% of Norwegians speak English, 86% of Danes, and 80% of Swedes. While this is a high number, you might still come across locals who cannot communicate in English but don't worry, simply ask the next person, and you should not have a problem asking for directions or help.
Denmark, Norway, and Sweden are all part of the Schengen State, which means they implement the same visa policies as other countries that are a member. If you hold a passport from any Americas (except Cuba, Bolivia, Ecuador, Suriname, and Guyana), any EU country, East Europe, Malaysia, Singapore, and some Oceania – you don't need a visa to enter and travel around Scandinavia for 90 days within a 180-day period.
Visitors with passports that are not on the list must apply for a visa through the embassy or consulate near them in advance.
For more information about the COVID-19 policy, read our travel tips for Scandinavia.
Other travel tips
For booking sites, here is a list of platforms I always use when planning my trip. These travel tools help me ensure that my trip will be fun and less hassle. From hotel bookings, arranging flights, getting ob awesome tours, and renting a car.
PINNED MAP OF MUST-SEE PLACES IN SCANDINAVIA
We marked each attraction and place that you shouldn't miss during your visit. We only added the places we will cover in this travel itinerary. There are so many spots that are worth visiting that we might not mention here.
You can click the top right corner to enlarge the map. Credit: Map data: Google
3 WEEKS IN SCANDINAVIA ITINERARY
TOP TIP: Plan to rent a car in all countries as this is the best way to go around. If that's not an option, local transportation in Scandinavia is impeccable; from buses, trains, to airports.
Week 1 – Norway
1 week in Norway: Oslo and the North
Whether you are coming from South or North America, you can find plenty of flights to Norway. You might have to connect in the UK, France, the Netherlands, or Iceland and then land in Oslo. Norway is a massive country. Therefore, I highly recommend you choose between exploring the Southern part of the Northern part but not both.
In your 3 weeks in Scandinavia, you can easily enjoy Norway in a week. Don't worry, I will show you the list of places you can visit in both areas, so you can make a better and more suitable itinerary for yourself. If you are planning to visit Svalbard, you should plan your trip during the summer.
Oslo>Tromsø>Svalbard or Oslo>Bergen/Fjords>Tromso/Svalbard
Day 1: Arrive in Oslo and plan to explore the Bygdøy peninsula, where you can visit multiple museums like Viking Museum, Fram, Norweigian Folk, Kon-Tiki, and Maritime Museum. You can also enjoy the beach during summer.
This place is only 20 minutes away from the city centre. You can either take bus #30 or take the boat to Pier 3 next to the City Hall. After a day of exploring, come down to Karl Johans, which is the high street of Oslo, and it's packed with awesome restaurants and various kinds of bars. You can also do an Oslo Fjord tour.
Day 2: Explore the city. There are more places to see in Oslo, for example, Frogner Park, Vigeland Museum, The Royal Palace (Det Kongelige Slott), Akershus Fortress, Oslo Cathedral, and Munch's Museum.
Head to Sorengkaia for a nice dinner by the water. Get yourself an Oslo public transportation pass to make travelling more convenient. Take a flight from Oslo to Tromsø, which should take under 2 hours for a direct flight.
Day 3: The first thing we suggest you check out is Fløya mountain which can be reached by cable car. The cable car is open from 10 am until midnight, so don't worry if you arrive around the afternoon in Tromsø. Just make sure to bring warm clothes because it gets really chilly on top of the mountain.
The cable car will only take you to Storsteinen (420 m above sea level), you need to hike up to Fløya Mountain (671 m above sea level), but it's an easy walk. During the right season, this is a great spot to see Norway's famous Nothern Lights. You can even enjoy dinner here. There are cafes and restaurants to enjoy meals and drinks.
If you feel like it, you can hike up to Fløya Mountain, which takes about 1 hour for one way (roughly 3kms/1.8mi), then take the cable car down or hike down again. The cable car operating hours changes every season, so make sure to double-check before heading out.
Day 4: After a long day on top of Fløya Mountain, it's time to wander around downtown Tromsø. Visit the Arctic Cathedral and Polaria. The thing is, Tromsø have lots of Cathedral. If that's not your thing, I suggest you explore the really magnificent beauty of this city.
Pack your camera and head to Pretvannet and Telegrafbukta. Regardless of what month you plan to spend here, the scenic view will never disappoint. This part of the city also hosts music festivals.
Day 5-7: Well, we didn't go to the Northern part of Norway for nothing; today, we are visiting Svalbard, the archipelago between mainland Norway and the North Pole. The flight from Tromsø to Svalbard is under 2 hours direct. You can also join a cruise called Hurtigruten, which is expensive but worth every penny.
The thing is, Svalbard is almost an isolated region. Hence we recommend you go here on a guided tour. The safety of locals and tourists and preserving the raw nature of Svalbard is the top priority. You should also know that visiting Svalbard can be very costly.
In this region, Longyearbyen is the most popular destination and where the airport is located. You can visit Svalbard Museum as well. Away from Longyearbyen, head to Pyramiden, which is up in the north or Barentsburg, which is south of Longyearbyen.
But of course, visiting the northern point of Norway is incomplete without trying out dogsledding and viewing the Northern Lights.
1 week in Norway: Southern Part
I'm not going to lie, just reading the northern part itinerary of Norway sent chills to my bones, and I feel cold! If you want to get away from that and prefer a warmer feel on your skin, here's the southern part of Norway itinerary.
Oslo>Bergen/Fjords>Stavanger>Kristiansand >> take a flight to Copenhagen airport
Day 1: Arrive in Oslo and plan to do an Oslo discovery trip by exploring the Bygdøy peninsula, where you can visit multiple museums like Viking Museum, Fram, Norweigian Folk, Kon-Tiki, and Maritime Museum. You can also enjoy the beach during summer.
This place is only 20 minutes away from the city centre; you can either take bus #30 or take the boat to Pier 3 next to the City Hall. After a day of exploring, come down to Karl Johans, which is the high street of Oslo; it's packed with awesome restaurants and various kinds of bars.
Day 2: Explore the city on foot or on a bike. You can make the most of your day by combining a grand city tour with an Oslo Fjord cruise. Apart from that, there are more places to see in Oslo, for example, Frogner Park, Vigeland Museum, The Royal Palace (Det Kongelige Slott), Akershus Fortress, Oslo Cathedral, and Munch's Museum.
Head to Sorengkaia for a nice dinner by the water. You can also book a 2-hour Fjord sightseeing cruise. It's time to take a flight from Oslo to Bergen, which should be under an hour direct flight.
Day 3: Bergen is the city you must land if you are eager to explore the Fjords. This city is filled with hiking areas and traditional wooden houses to adore. Head to the Bryggen area to enjoy a line of beautiful and colourful old Hanseatic wharf houses.
There is also Hanseatic Museum for you to learn more about these houses and the local culture. Join a Bergen city tour to maximise your time or this day trip out of Bergen. Make sure to find time to head to Troltunga, undeniably one of the most popular spots to take incredible photos in Norway.
There are many things to do in Bergen but don't forget to visit Bergenhus Fortress, Bergen Art Museum, and the scenic Nordnes Park. You may also spend this day exploring Fjords. I recommend you book a guided tour to make the most out of your trip.
Day 4: Explore the Fjords. Fjords are long, narrow inlet with steep sides or cliffs which was built through glaciers. There are many areas to choose from, guided tours will list exactly which places you will see. Regardless of the season, Fjord will be spectacular and worth a visit.
The most popular spots are Geirangerfjord, Sognefjord, and Lysefjord. If you want to see some unique animals, visit Atlantic Sea Park for marine animals and see the famous puffin birds of Runde Island.
Day 5: Head to Stavanger, which is 210 km (130 mi). The best way is to take a 40-minute flight. I recommend you to visit Gamle Stavanger, which is lined with preserved 18th-19th-century wooden cottages and is a very historic area.
From here, wander around the city and check out Norsk Olhemuseum (Petroleum Museum). It might sound a bit off. Still, the Norwegian economy relies massively on oil and fishing, which will lead you to the Canning Museum (Norsk hermetikkmuseum). You must visit Pulpit Rock, which is only a 45-minute drive from Stavanger.
You can also explore Lysefjord from Stavanger. And of course, last but not least, explore downtown Stavanger, where you can visit the Town Centre, Domkirke, and Breiavatnet. Enjoy your dinner at Øvre Holmegate, the high street of Stavanger.
Day 6: Before we head back to Oslo, make a stop at Kristiansand. A town in the south that is popular during the summer season. Here, you can admire traditional wooden houses in the old town, Posebyen.
If it's warm enough, go take a dip at the lake in the middle of the city called Stampe Badeplass. While Kristiansand is really charming, you can skip this area to add more time either in Bergen, Stavanger or even in Oslo.
Day 7: Head back to Oslo, where you can catch a flight to Copenhagen.
What to eat in Norway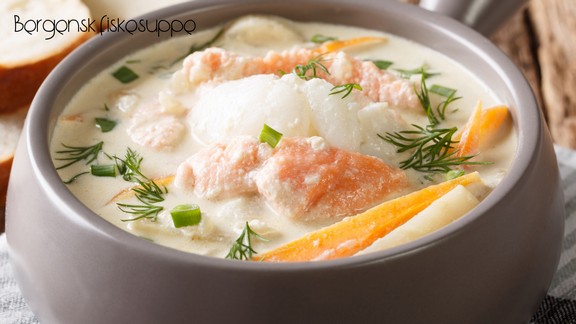 During your 3 weeks in Scandinavia vacation, especially in Norway, make sure to enjoy some local Norwegian dishes. You can even sign up for a cooking class with a local and knowledgeable chef.
Kjøttkaker – it's the Norwegian answer to Swedish meatball, it's a staple to Norwegian's dining table, especially for dinner
Rakfisk – this is a fermented fish fillet from freshwater such as trout. It is enjoyed during lunch with onion, butter, and sour cream on the side
Bergensk fiskesuppe – if you are heading to Bergen, definitely take a bite of this dish. It's a fish soup best enjoyed during lunch, it has a thick texture with egg yolk, sour cream, and a dash of vinegar. Enjoy this with Kjøttkaker.
Lefse – for dessert, make sure to try this rolled flatbread, it is blended with butter, sugar, and cinnamon. This snack can easily be found in grocery stores, ferry harbours, and even airports.
Book this food and culture walking tour in Bergen
Week 2 – Denmark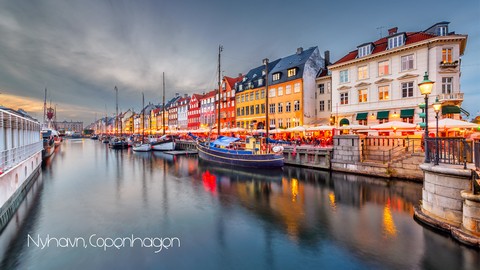 Denmark is the smallest country in Scandinavia (if you don't count Greenland and Faroe Island). But don't get fooled by its size. This place has so much to offer. Personally, I think Denmark has the best pastries and beers among the three. Because of its size, I can definitely assure you that a week spent here will be well spent.
However, it's a flat country, so don't expect any big hiking or trekking in this part of the 3 weeks in Scandinavia itinerary, but still, lots of massive parks and forests to explore.
TOP TIP: This is definitely the country where renting a car is the best idea. Due to its size, you can save both time and money if you drive yourself around versus taking buses, trains, and even flying. There's this joke about travelling Denmark and all its corners, "you can do it in just a week!". You can drive from Copenhagen to Skagen in less than 6 hours, covering a little over 500 km (300 mi)
1 week in Denmark Itinerary
Copenhagen > Odense > Aarhus >> Skagen >> fly to Stockholm
Day 1: Arrive in Copenhagen. Depending on the time, you can easily stroll around Amalienborg, Ofelia Plads, Amalie Garden and the famous Freetown of Christiania to get a feel of the city. Copenhagen has lots of hidden gems, so don't be afraid to explore.
It's best to end your walk at Christiania, where you can enjoy various international cuisine for a bite. You should get a city card which lets you into many attractions and get free use of public transportation. If you like riding a bicycle, there is a city tour that you can join on a bike.
Day 2: Head to Nyhavn (near Ofelia Plads), where you can get on a boat tour. You will be able to see the famous Little Mermaid. While you cannot get off the boat until the tour ends, it is accessible by land.
Make sure you visit Tivoli Gardens as well, especially if you are travelling with young children. You can also plan to book a grand city tour that covers all the must-sees in Copenhagen.
You can take the blue metro line from Kongens Nytorv to Østerport. From here, you can walk to the Little Mermaid Statue and enjoy Kastellet, Gefion Fountain, and Medical Museion. Head to Store Kongensgade or Bredgade, both the most popular and busiest streets of Copenhagen.
Day 3: Take the train, bus, or drive to Odense, located in the Fyn region. It should take about a 2-hour drive (170km/105 mi). If you leave early, you will have enough time to visit Hans Christian Andersen's House and his childhood home, which both can be found downtown and just 750m away from each other. Spend the rest of the afternoon exploring bars and restaurants.
Day 4: Start your day by packing the car and head to Egeskov, a living castle just a 30-minute drive south of Odense. This castle was built in the 16th century and are actually privately owned but open to tourist.
It's called the living castle because people actually live here. You can pack your own food and enjoy a picnic after exploring the mazes and the castle itself. From here, you can drive straight to Aarhus, which would take about 2 hours of driving.
Day 6: Aarhus is the second-largest city in Denmark and is known as the home of Aarhus University. This city is also popular for its unique Scandinavian architecture. Hence, I recommend you check out ARoS Museum and Dokk1 for really cool buildings. Den Gamle By is where you can learn more about Danish culture.
Enjoy your evening and check out places like Aarhus Street Food and Flammen for authentic Danish food. You can get yourself a self-guided audio tour that covers both ARoS and Den Gamle By.
Day 7: We are not leaving Denmark without visiting Skagen, the coastal town where Skagerrak and Kattegat sea meet. You should also check out Den Tilsandede Kirke, a gothic-style church tower that where parts of it are now submerged under the sand dune.
This part of Denmark is so up the north that you can get TV and radio channels from Norway and Sweden. It is also the place I highly advise you to try a local salmon dish. From here, you have to head back to Aarhus or Aalborg to take a flight to Copenhagen or simply drive to bring back the car, then take an hour's train to Malmø, Sweden.
TIP: You can take a ferry from Frederikshavn (DK) to Gothenburg (SE)
EXTRA TIP: If you have the time or decide to skip a place, we recommend you take a look at Esbjerg. Esbjerg is a popular summer destination not because of its harbour but because of the stunning island of Fano. While the beach itself is not the most beautiful in the world due to low tide, there are much wind sport-base you can enjoy, like kiting. You can even bring your car through the ferry service to this island. If you have time, visit to Vadehavet National Park, it's a bit over an hour's drive.
What to eat in Denmark
With your 3 weeks in Scandinavia itinerary, we can't leave out food, and I love Danish food! Surely, it took me a while to get used to its alien taste for me, but after learning what goes with what, I'm a big fan. I highly recommend you book a food tour and culinary experience or a food and drinks tour to understand Danish cuisine more. Here is a list of food to try during your visit to Denmark:
Rugbrød and leverpostej (rye bread and liver pate)- rugbrød is a dark bitter-ish bread that you will normally find during lunchtime. It can be enjoyed by spreading leverpostej, adding meat, fish, or boiled egg on top, then perhaps tomatoes or cucumber, finish off with salt and pepper or remoulade. I like adding a squeeze of lime/lemon juice too.
Frikadeller – another favourite of mine; this is a fried meatball. It consists of fish, pork or beef. This can be eaten with potatoes, remoulade, and fried onions, but you can also add this on top of rugbrød.
Koldskål – a breakfast or snack dish that is enjoyable during summer. It's a thick and sweetened dairy product (similar to yoghurt) with added crushed biscuits or fruit on top.
Hotdog and sausages – this reminds me of Germany, Danes love and are proud of their local and organic hotdogs and sausages. This dish can be found in many food street stalls annually.
Kanelsnegle/Cinnamon roll – this is my all-time favourite Danish/Swedish pastry; if I am to spend my last Danish krone at the airport, it's definitely something I'd buy.
Week 3 – Sweden
Sweden is the biggest country in Scandinavia. Which can both be annoying and enjoyable. Here, you probably don't want to rent a car. You can cover all the places you want to see by taking domestic flights, trains, and buses. Plan ahead the flights and trains if you are planning to take them.
1 week in Sweden Itinerary
Stockholm > Uppsala > Malmø > Gothenburg > Kosterhavet National Park
Day 1: Malmø is just an hour away from Copenhagen. Malmø is where the old Sweden meets the new Sweden. It's filled with old medieval, historic museums. and castles while also full of buildings that are inspired by modern Scandinavian architecture.
Go visit Mamohus Slott, Turning Torso, and Södergatan, one of the high streets of Malmø, where you can enjoy restaurants and bars. Nearby is the town of Lund. You can explore both Malmø and Lund in one day.
Day 2: Head to Gothenburg, 3 hours away north of Malmø; you can either take a train or drive a rental car. The city will remind you of Dutch-style canals and is known for having great parks at almost every corner. It is also most popular for holding music festivals and film festivals all year round.
Before you head to your 3 weeks in Scandinavia trip, make sure you check out which festivals are happening and book your ticket.
Day 3: From Gothenburg, go to Kosterhavets Nationalpark, the best place to observe marine life in the North Sea. This is a 2-hour drive north of Gotenburg, you then have to drive back to catch the flight to Stockholm; I honestly still believe it's worth the trip. You can join a land & water tour – a great way to save time.
Day 4: Take a flight from Gothenburg to Stockholm. Once you arrive in Stockholm, go explore museums or sign up for a grand tour of Stockholm's top attractions. The thing is, Stockholm is such a big city and also filled with the most fantastic museums; including art, history, and culture. There are too many, to be honest.
Hence, I recommend you to choose and plan which ones you are interested in. Looking at the map of Stockholm, you will see that the city is formed by dozens of islands. So, make sure you plan on getting on a boat trip around the city.
While wandering around, don't forget to enjoy Swedish food and drinks on the streets of Drottninggatan and Klarabergsgatan. Make sure to get a Stockholm pass to save money.
Day 5: One of the most famous areas of Stockholm is called Uppsala, which is an hour away. The largest cathedral in Scandinavia is located here, called Uppsala Cathedral. It's also the home of Uppsala University, which was founded in 1477, and the popular Carolina Rediviva Library. While in Stockholm, check out ABBA Museum and visit Open-Air Museum.
Day 6 and 7: If you have time and curiosity, check out Lapland on the Swedish side. Lapland region is shared by Sweden and Finland. It's a fantastic destination, especially in winter, for some fun winter sports. There are two airports to fly to from Stockholm, one is called Kruna, and the other is Gallivare, but Kiruna is a more popular route.
TIP: 3 weeks in Scandinavia might sound like a lot of time, but travelling between countries will eat quite some of it. I recommend you only choose 2 cities/locations for Sweden. For example, Malmø and Gothenburg or Malmø and Stockholm or Stockholm and Lapland.
What to eat in Sweden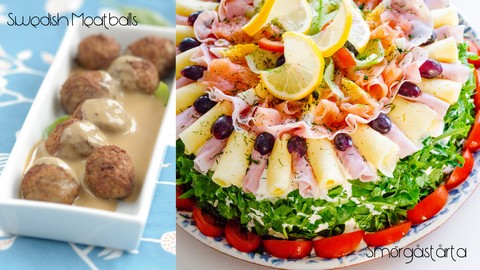 Of course, a 3 weeks Scandinavia itinerary must have a list of food to try in Sweden. While personally, I'd say the food in the Scandinavia region is quite similar to one another. There are still dishes that are only must-try in a specific country. Don't forget to consider joining the Nordic food walk to try different dishes in one fantastic tour. Here is a list of food to try in Sweden during your visit:
Swedish meatballs – and we are not talking about the IKEA version (although I did and liked it too), enjoy it with mashed potatoes or rice
Smörgåstårta – a sandwich cake, yeah, you read that right. It's a layer of bread filled with eggs or prawns and mayonnaise. The outer layer is covered in cream cheese and other things you enjoy, like tomatoes, herbs, and olives.
Filmjölk – this is similar to Dane's koldskål, you can add muesli and fruit on top
SUMMARY OF 3 WEEKS IN SCANDINAVIA
Scandinavia might be known as an expensive region to spend a vacation in, but if you plan and do your research, you can still save money while ensuring your holiday will be great and memorable. This is one single region in the world that I won't get tired of visiting and would even love to call home, maybe in the future.
I really hope that you found this 3 weeks in Scandinavia itinerary inspiring and that I was able to help you write an ideal itinerary fitting your needs and wants. Please have a great time during your trip, and make sure to enjoy the Viking culture.
SAVE THIS TRAVEL TIP AND ITINERARY ON YOUR PINTEREST: