Travelling for the first or first time alone can be intimidating. You already have some concerns, but on top of that family and friends voice their worries as well – making the trip scarier than it should be. Of course, travelling even just in your own city or country in terms of safety is a big deal. It is a little bit naive to think everything will be okay or that you will always be safe.
While we should think and see the good side of humanity, we should also be prepared and realistic about the bad things that could happen. Thinking that it's unsafe out there or it is safe out there is just not possible, there's no one right answer. Instead, you should be cautious and be prepared but also remember that it's not all bad.
To help you ease the stress and lessen the anxiety of the people around you, here are some tried, tested, and proven helpful safety tips for beginner travellers or solo travellers. From carrying self-defence tools, having access to the internet, how to call for help if you don't speak the local language, and more.
SAFETY TIPS FOR BEGINNER TRAVELLERS OR SOLO TRAVELLERS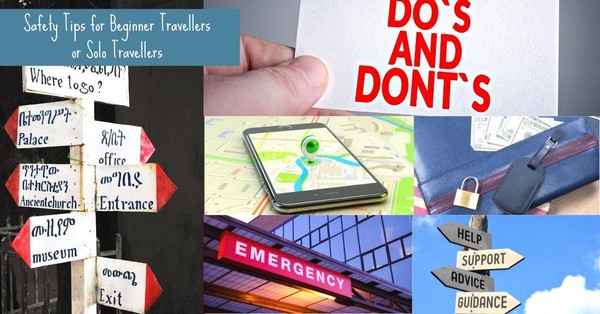 Perhaps not all of these tips will be suitable for this upcoming trip of yours but could be helpful for your next adventure. Although travelling alone can be nerve-racking, it doesn't mean you should not go. There are many benefits of travelling alone such as getting out of your comfort zone and learning about different cultures through your own experiences.
Get a local Simcard with data or turn your roaming on
In places like Southeast Asia, Africa, South America, and some parts of Europe, a sim card with mobile data is affordable enough. Even though it can be a hassle to get them, it will really be worth it. Having mobile data will help you not only navigate the new place easily but also be in contact with family and friends.
If you are heading to Scandinavia, Australia, or North America where mobile data can be expensive, you should look into data roaming charges from your mobile network. If your phone is locked with your current provider, roaming will be useful or bringing an old or extra phone to plug in a local sim card can be very helpful.
I personally always share my real-time location with 1 or 2 family members and a friend. I don't mind them seeing where I am while travelling, it actually makes me feel safer. When I get home, I turn in these location shares.
However, this feature requires an internet connection, so your trusted person can see your real-time location. Hence, having mobile data or roaming is vital here.
Set a periodic check-in with family or friends
If you are a person like me who's pretty bad at checking in with my family, it's important that you adjust here a little bit. Tell your parents that you will message them at least once a day just to check in and that everything is okay. Set an alarm on your phone as a reminder.
Share your travel plans with people you trust as well. If anything changes, make sure to notify the people who care about you. In this way, if they don't hear from you, they can share with the authorities your last location or itinerary. If you have the real-time location share, they can also see the last location you have been before the battery went dead or you get to a place with no reception.
Memorise a fake name
I know it sounds ridiculous, but if you get into a situation where you feel unsafe or around people you don't trust, using a fake name can keep you safe. If you met a stranger and your gut is sending you red flags, giving them a fake name avoid them finding you online or ask the reception of your accommodation for your room number (which they shouldn't give in the first place).
I once had to do this and even went as far as faking my home town, age, phone number, and lied about not having social media accounts. I couldn't walk away instantly, all I could do was buy time. So, I had to make my fake name or personality more elaborate.
Wear a faux wedding ring
I have not done this but I've heard many people, especially women who did this and noticed a big difference in the amount of unwanted attention they receive. While it might not stop creepy people from hitting on you, it can have some effects too.
Learn the important word in the local language
It will be helpful not only in life-threatening situations if you learn local phrases for help, stop, police, your country's embassy, and hospital. In case your phone is dead and you cannot use a translation app, these phrases will come in handy.
Carry a whistle and self-defence keychain
I always carry a subtle whistle with me, it hangs on my keys if I'm not travelling and inside my waist fanny pack for easy access when travelling. I have not tried carrying a self-defence keychain but they are becoming very popular. Both whistle and self-defence tools are now well-designed and easy to carry, and attach to your belt or backpack, or keys.
Join group tours or walking tours
On your first day, it's smart to join a group tour or walking tour. The walking tour will help you get familiarised with the city's streets and layout. Often, the guide also mentions which areas are deemed unsafe. These walking tours usually have 5-10 participants.
Group tours will assist you in staying in a big group that is almost never a target for crimes. It's also a great way to meet other travellers, perhaps, you will meet a travel buddy here.
Update your emergency contact
Each smartphone has a setting for emergency contact and medical information. This information can be accessed without unlocking your phone. It will be useful if you get into an accident and the hospital needs to contact your family or friend. It's also an easy way for you to contact your trusted person quickly in situations when you don't have time to rummage through your contact list.
To access this information, when you swipe up or try to turn off your phone, you will see the "Emergency" or "Emergency call" button on the keypads. Here are some tips by phone:
For Google Pixel: Go to settings > about phone > emergency information
Samsung: Go to contacts > click your icon/profile > emergency information
iPhone: Go to health app > click summary tab > click your profile photo > choose medical ID
Learn emergency numbers
Some countries have an easy emergency hotline. It can be helpful to learn these numbers in your destination. Here are a complete list and samples:
Australia – 000
Canada – 112 or 911
Denmark – 112
France -112 o 17 or 15
Germany – 110 or 112
India – 100 or 108
New Zealand – 111
South Africa – 10 111 or 10 177
Switzerland – 117 or 144
USA – 911
UK – 999 or 112
Get a thin fanny pack
Fanny pack might not look the best in the fashion industry but they are super helpful in travelling. Choose the one that is very slim and doesn't make a large bump on your waistline. Usually, you can fit your phone, cash, and hotel keys. If you plan to place your credit card and passport, make sure it's waterproof and RFID-secured.
Wear this fanny pack under your shirt, away from the view of other people. When walking through a crowd, keep your hand around your waist to secure if anyone tries to access your valuables. It comes in different sizes, make sure to check if the items you will place in it will fit.
Personally, I think this is one of the best safety tips for beginner travellers. I've travelled to many places and I still have a fanny pack and find it very helpful on every trip.
Pack a coded lock
This is important especially if you plan to stay in dorm rooms or use public lockers like in the airport or train stations. I like a coded lock instead of the one with a key. Using a coded lock will free you from carrying a key around and minding it.
When leaving your room or going to sleep, lock your valuables in your locker. When unlocking, ensure that no one is around and don't let your unlocked device on display, everyone will be able to see your code.
ALSO READ: Smart packing tips for a 3-week holiday
Pick up the hotel's calling card
It sounds like an ancient tip but it works. If you don't have access to the internet or your hotel's address or phone number is not on the digital map, you can simply show the calling card to a taxi driver or a local and ask which way is home. In case you get stuck in a place and couldn't find a taxi, you can call your hotel to send one to your location.
Use VPN when using public wifi or accessing your bank app
Internet is awesome, right? Although it brings so much information, convenience, and entertainment, the internet is not your best friend. Using public wifi or shared wifi can be very unsafe. When using public wifi, use a VPN to secure your social media accounts, email accounts, and your phone.
Banks are very smart but scammers and hackers are just as smart. If you need to access your bank online, make sure to use a VPN. There are free VPNs out there for you to install on your phone. I also don't recommend you to log into your bank account using a shared hotel's computer.
Backup for a bank card, passport
If you can bring at least two bank cards with you, that would be great. In case you lost one, you will have an extra. For this to work, make sure to not carry both when you go outside.
This other tip can be a bit risky but it could be helpful. Make a backup copy of your bank card and passport. For a passport, a photocopy and a digital copy would suffice. Making a photocopy or digital copy of your bank card is probably prohibited by your bank, it's better to simply give a copy of your bank card to your family member in case you lose your card and need to book something. But the best thing is to simply memorise all the details.
A friend of mine lost his one and only bank card. So, he went online to Western Union to send himself cash. He entered his bank card details from memory, went to the Western Union store and picked up the money. Then he cancelled his bank card.
But remember, once you do something like this, cancel your bank card right away. You can always find your bank's international number online and by phone, you can cancel your lost card.
Have emergency cash tucked away
Make sure you have some cash in international currency (USD, Euro, GBP) tucked somewhere safe. In case you lose your wallet, you know that these currencies can easily be changed in any country. In this way, you can buy essentials or do something to get more cash (call home, buy food, call for a taxi).
The extra cash should not be in your main wallet. It can be tucked in your fanny pack, passport, journal book, or even in your toiletries bag.
Read the do's and don'ts of your destination
This safe tip sounds outdated but it's still very much relevant. When you visit a different country than yours, it's important to remember that you are a guest. You must show respect and politeness especially when it comes to their culture.
It doesn't matter if you don't see the reason or value of such practice or tradition, you have to follow it. It doesn't matter if you don't practice their religion or you don't believe in any shape or form of God, being polite and respectful is something you should always practice wherever you are.
This is why it's important to read and learn do's and don't's in a new country regardless of you think that country is modern or progressive. There's always a social norm you would want to adhere to.
Approach other tourists when being followed
If you feel like you are being followed, approach other tourists and pretend you are friends with them. You can easily spot tourists, they usually wear backpacks, their style of outfit is different from the locals (comfort over style), and usually looking at windows or taking photos.
When you approach them, say a big hello and smile. Then, simply talk in a low voice by saying "Sorry for interrupting, but a person in XYZ shirt is following me. Can I stand here with you for a bit or help me get a taxi". Something along that line.
Normally, the person following you will not attempt to get too close, so they won't hear what you are saying.
Get picked up from a specific store
When booking or flagging a taxi or ride-sharing service, it's better to use a store as a pickup point. Especially if it's late at night and there are not many people around. In this way, other people or the store's CCTV can see your car service's information (colour, plate number, model).
I know some of these are a bit over the top or some situations I described are a bit grim to think about. But it's really true that it's better to be safe than sorry. Being safe and being a little more careful won't hurt anyone. Holidays away from home or your comfort zone is not always going to be paradise, there are situations where you will need to rely on the safety measures you put in place.
SAVE THESE TRAVEL TIPS ON YOUR PINTEREST: