The UK and Ireland are two countries that many people get confused about. These two countries share so much together, from history, culture, traditions, and even the monarchy. The UK and Ireland also sit right next to each other in the western part of Europe.
In the UK, you will find the stunning Buckingham Palace, Stonehenge, and the Snowdonia National Park. It's also composed of four different countries; England, Scotland, Wales, and Northern Ireland. At the same time, Ireland offers you the magnificent Giant's Causeway, Cliffs of Moher, and its lively atmosphere.
Most travellers to these countries are visiting for the same reasons; to see the ancient and historical sites, try the best fish and chips, drink the incredible Guinness, and the fact that we see hear and see a lot about the UK and Ireland on our TV, big screens, music, and more. One thing many people didn't know though, both countries have amazing hiking trails and very interesting traditions.
It's also pretty easy to get to this region. Heathrow Airport in London is one of Europe's busiest and biggest airports. There are tons of flights directly from here, heading almost to any part of the world. This itinerary of 3 weeks in the UK and Ireland will take you to bustling cities, natural wonders, and historical sites.
THINGS TO KNOW BEFORE GOING TO THE UK AND IRELAND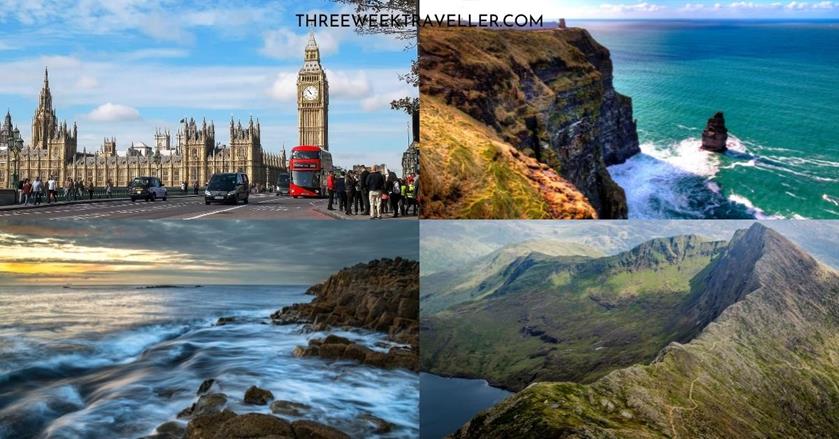 Before proceeding with the itinerary for those planning to stay for 3 weeks in the UK and Ireland, I compiled some of the most essential tips such as how to get around and when is the best time to visit. These tips will be helpful when it comes to planning and writing your 3-week itinerary to these two countries.
>> If you want to explore the UK for now, you can check our 3 weeks in the UK itinerary or maybe you want to travel to western Europe in 3 weeks.
When is the best time to go to the UK and Ireland
The best time to visit the UK and Ireland is from September to November when there's little chance of rain.
The UK has always been the butt of a joke when it comes to weather. This is because it's quite hard to predict when it's about to rain. But official, the UK's rainy season is from March to May. This is when sudden rain showers occur, make sure to bring umbrellas or raincoats with you whenever you go outside.
This is also the season of flowering plants and growing trees. Their driest season is from June to August. But even if it's summer, there can also be thunderstorms here and there. Just make sure to tune in on local news and be updated.
Rainfall is immensely common in Ireland, but their rainiest season is from December to January while their driest season is during April except for the southern areas wherein their driest month is every June.
Are 3 weeks enough for the UK and Ireland
20 days in these two countries is doable. However, you will have to smartly choose the places you want to see. For example, the UK consists of 4 countries. Perhaps on this trip, you can do Enalng and Scotland, then add Ireland. That leaves you to spend 1 week in England, a week in Scotland, and a week in Ireland.
You can also do a week in Ireland, a few days in Northern Ireland, a week in Wales, then a week in England. Travelling between countries and cities is pretty easy. You can use a combination of domestic flights, trains, ferries, and driving to maximise your time.
What to pack
When you pack for a trip to the UK and Ireland, it will be different depending on the activities and season you plan to visit. For example, if you want to include hiking on your travel itinerary, it will be ideal to pack some walking shoes. Exploring London alone will keep you on your feet all day.
We have articles and samples of what to pack for a 3-week vacation. You can also check our summer packing list for a 3-week trip.
How to get around
You can get around the UK and Ireland by train, it is the most common and affordable way to get from point A to B. You'll also get to see the lush greeneries along the way, which would make your trip more memorable. The cheapest option on the other hand is taking the bus.
You can also reach Ireland from the UK without flying. Instead, you can take a scenic ferry ride. If you're only travelling within Ireland, the main transportations include trains and buses.
In both countries, you can use ride-hailing apps such as Uber, Bolt, Free Now, and Ola. While renting a car is the most popular choice for visitors, it also gives you so much freedom when it comes to moving around.
RELATED POST: 3 weeks in Europe on a budget
Visa and COVID-19 protocol
The UK and Ireland have quite identical visa policies in place for people who wish to enter and travel around. The only difference is the fact that Ireland is a member of the EU, which means that people who possess a passport from another EU member country can enter and stay in Ireland indefinitely (in other words, they have freedom of movement). While travellers from most parts of America, Oceania, South Korea, Japan, Singapore, Malaysia, South Africa, Botswana, and some countries in the Middle East can enjoy a visa-free for 90 days (180 days for Japan).
For the UK, visitors who have a passport from most Americas, Europe, Oceania, Japan, South Korea, Malaysia, Singapore, Namibiam Botsawanam and a few countries in the Middle East can enter and stay in the UK for up to 6-months visa-free. The rest of the world has to apply for a visa beforehand.
Ireland removed all COVID-19 restrictions in March 2022. You don't have to complete any form or even show proof of vaccination or test when entering the country. The same goes for travellers heading to the UK. Arrivals no longer have to present any test or vaccination card.
Other travel tips
We have an article about how to stay safe when travelling alone or travelling as a woman. Whenever I plan a trip, these are the travel sites and services I always use. They have a wide selection and pretty much have options available worldwide:
MUST-SEE PLACES IN THE UK AND IRELAND (pinned map)
Click the enlarge button on the top right corner. Credit: map data: Google
3 WEEKS IN ITINERARY THE UK AND IRELAND
We all know that the UK is famous for fish and chips. And the Royal Family. And the Harry Potter franchise. And the Beatles and basically almost everything related to pop culture. But there's more to the UK than food, history, cinema, and music. They have the largest castle in the world which is Windsor Castle. They have a very interesting annual cheese rolling competition and they have one of the largest libraries in the world, with over 170 million items in the catalogue.
Ireland on the other hand is known for being the home of St Patrick's day, Guinness beer, and Irish whisky and coffee. For visitors to Ireland, there are also natural wonders to explore such as Killarney National Park, Rock of Cashel, and Ring of Kerry. You can also find tons of scenes on Game of Thrones that were filmed in Ireland.
Ireland and Northern Ireland for 5 days
The first thing you need to know is that Northern Ireland isn't a part of Ireland, it is part of the United Kingdom. If you're planning to stay for 3 weeks in Ireland and the UK, you could allot 5 days in Ireland and Northern Ireland.
The best way to travel around Ireland and Northern Ireland is to rent a car. But you can also buy one of those hop-on hop-off bus tickets that bring you to popular spots in the city. There is a Dublin hop-on hop-off bus and another one for Belfast.
You should visit Ireland at least once in your life because of its unbelievable landscapes. In fact, it was even included in 20 of the most beautiful countries in the world in last 2017. It also has world-class accommodations, abundant medieval and prehistoric sites, and the world's longest-defined coastal driving route, among others. Here are some of the things to see and do in Northern Ireland and Ireland.
Extra tip: Once you cross the border to Northern Ireland, you can then rent a car there, which you can take with you all the way to England where you can catch your flight home.
Things to see in Ireland
Things to see in Northern Ireland
Accommodations in Dublin, Ireland:
Accommodations in Belfast, Northern Ireland:
Scotland for 3 days
One of the main reasons why one should visit Scotland is because of its diversity. It has charming villages, glorious icy mountain peaks, bustling cities, and laidback countryside. Whatever your preferences are, you'll surely be able to find something quite enjoyable to explore.
To reach Scotland from Northern Ireland, you can take a ferry and then a bus. If you have a car, you can also take the car on the ferry. The other choice would be to take a very short flight. You can purchase a hop-on, hop-off bus ticket which is useful for visiting top sites in the city centre – ticket for Edinburgh and for Glasgow.
Things to see in Scotland:
Edinburg:
Glasgow:
Accommodations in Edinburgh:
Accommodations in Glasgow:
Northern England for 4 days
Northern England doesn't make it on people's travel lists that often, which is unfortunate because it has so much to offer. It has extraordinary landscapes, a strong cultural identity, and beautiful historic architecture, among others. You can also spend 3 weeks in England alone which will allow you to travel slower and enjoy hiking.
For you to reach Northern England from Scotland, you can either take a bus, train, or drive a car. The most recommended option out of all of these is to board the train if you don't have a rented car. Once you reach Northern England, you could stay in Manchester, which is a middle spot because it would be easier to get to Leeds, Sheffield, and Liverpool.
Get yourself a hop-on, hop-off bus ticket for Liverpool if you don't have a vehicle to make exploring much easier.
Things to see in Northern England
Accommodations in Manchester City Centre:
London for 6 days
3 weeks in the UK and Ireland itinerary is not complete without checking out London. It is the most famous city in the UK and understandably so. It is famous for its architecture, art, fashion, food, and football. Some of the most well-known singers, bands and actors are from this city. It's also one of the four leading fashion capitals of the world.
London is also home to the oldest buildings in the UK. For history lovers, you definitely have to visit London especially if it's your first time in the UK. If you have extra time, you can even head down south to Brighton or east to Bristol
To get to London from Northern England, you could board the train, use rideshare, ride the bus, drive or fly. The cheapest option would be to use rideshare or take the bus. But it's much easier if you have a car rental.
Things to see in London:
Accommodations in Central London:
Bonus – Day trips from London:
The New Forest (90 miles)
Deal Castle (just over 80 miles)
Mersea Island (69 miles)
Margate (76 miles)
Hastings (54 miles)
Guildford's Cathedral (31 miles)
Cambridge (64 miles)
Chichester (80 miles)
SUMMARY OF 3 WEEKS IN THE UK AND IRELAND ITINERARY
So it's settled, you're now going to have a vacation for 3 weeks in the UK and Ireland. Travelling between Ireland and the UK is very easy, both countries are connected very well in terms of transportation. Spending your vacation in this region, you can cover so much, from visiting historical sites, going for incredible hikes, trying out local food, and exploring spots related to famous musicians and performers.
I hope that you found the 3 weeks in the UK and Ireland itinerary helpful. I know weren't able to feature Wales or explore more of the west and east London, but then that's something to do on your next visit.
SAVE THIS TRAVEL ITINERARY ON YOUR PINTEREST: