When one thinks of the south of Europe, most people's imagination goes straight to Spain, Italy, and Greece. Many people know that Portugal is in the south, but where is the exact location? That's a different story. Let alone knowing what can this stunning and unassuming country has to offer.
Portugal is known for its love of seafood, sardines, egg tarts, cobbled-stone road, super friendly locals, and exciting beaches. In the recent year, it took the limelight when the government launched its Golden Visa and D7 visa, making it easier for international visitors to make Portugal their new permanent home.
In this itinerary for 3 weeks in Portugal, I will show you how you can spend 20 days in this magnificent country visiting every well-known spot. I spent about three weeks here last year, where I got to eat tasty dishes, go hiking, swim in the water, and meet many fantastic people. There are two itineraries to choose from. Check below which one fits you the most.
RELATED POST: 3 weeks in Spain and 3 weeks in France
THINGS TO KNOW BEFORE GOING TO PORTUGAL
One thing you need to know about Portugal is how hilly it was. The roads are paved with cobbled stone that looks slippery and is slipper when raining – it's vital to bring good walking shoes/sandals. Domestic flights are also affordable; some buses and trains connect each city.
When writing your itinerary for Portugal, there are things you should know, such as the best time to go, how to get from one place to another, what to pack, how best to pay your bill and some ideas on how much you will spend during your 3 weeks in Portugal. Below are some tips to help you:
Are 3 weeks enough for Portugal
20 days in Portugal is perfect. This is not a massive country. This means that you can travel slowly and still lots of places. Although many islands make up Portugal, there are direct flights to help you move around.
After my stay here, it didn't feel like I could stay more, not because three weeks wasn't enough but because I just wanted to eat all the food and walk around every day.
When is the best time to go to Portugal
The best time to go to Portugal is early spring. Autumn season is fine for Madeira Islands, but it's rainy on the mainland. The big crowds are gone during this time while the weather is mild and very comfortable. You can still visit the beach without toasting yourself and dressing up nicely without drowning in sweat.
On my recent trip, I went to Portugal in the autumn. It was perfect for me because I wanted to do lots of hiking. I once went to Lisbon for a 3-day trip as part of my South Europe trip, that was summer, I didn't enjoy it much due to the long queues and the large crowd – but the atmosphere is much different.
If you plan to go in the water, around the mainland, the water does get cold in winter. However, if you go to Madeira Islands, the water is about 21°C and is decent enough for a quick swim. It's mostly sunny, so you can still get your tan on, although the wind can be chilly.
If you don't fancy getting rained on, avoid November to December, as these are the months when Portugal gets most of the rain. In December 2022, there was news showing Lisbon being flooded in many areas.
What to pack
Since Portugal doesn't get that cold, I was able to get survive with just one long sleeve baselayer top and a fleece jacket. I didn't even have to wear my hiking pants. But if you plan to come in summer, it gets very humid. Hence, it's vital to pack breathable and lightweight clothes.
There will be lots of walking on the cobbled-stone, make sure to pack comfortable walking shoes or sandals. For those who prefer to buy toiletries when you land, it is not easy to find small-sized toothpaste, hair products, and even mouthwash – keep that in mind.
Finally, it's hard to get medicines out of the pharmacy. Ensure that you bring enough meds with you if you are taking prescription ones.
How to get around
Getting around Portugal was very easy. You can use the local bus, metro, trains, electric scooters, electric bikes, and take domestic flights.
The city buses are frequent but can be confusing to use, plus it stops a lot, so the journey is much longer. For around the city of Lisbon, you can take the metro and funicular. You can pay the driver, but it's more expensive (€3/ride). You can get a transport card (Viva Viagem) at a metro station that you top up. Using this means it will cost you €1.50 per ride regardless of the distance.
Another mode of transportation in Portugal is the electric scooter, which you can pay for using an app or your transport card. Ride-hailing app such as Uber is also available. I prefer to use Bolt because it is cheaper, and you can also use FREENOW app (spoiler, it wasn't free!)
Finally, trains on the mainland are also very convenient to use and connect all big cities. Surprisingly, it's not much faster than driving alone or even taking the bus. The train tickets are a bit pricier than the bus, but then you can take bigger luggage. You must pay extra for luggage on a bus (such as Flixbus).
I walked most of the time, plus occasional use of the bus, metro, and Bolt. If you have 3 weeks in Portugal and plan to travel only around the mainland, renting a car might be best, especially if you have two or more people.
Language and currency
Portuguese is the primary language in Portugal, which is a mixture of Spanish, Arabic, and even French and originated in Latin. However, I found communication in English was possible during my stay. Locals of all ages speak English quite well.
But for the best experience and a great show of respect, learn some basic Portuguese phrases such as hello, thank you, how much is this, where is the, and so on.
Portugal's main currency is Euro (€), which has been used since 1999. Paying in shops is very easy, you can use both cash or a card. Most restaurants and even souvenir stores accept card payments, but it's still best to bring cash with you, especially if you plan to take public transport since the driver can only accept cash (if you don't have the transport card).
Average travel cost for 3 weeks in Portugal
In my 20 days in Portugal, I spent around €800 since I was on a budget. That includes accommodation, food and drinks, local transport, and tours. That was a mixture of staying in shared dorms and getting private rooms. If you plan to book a private room the entire time, a budget of €1,300 for 3 weeks in Portugal would be sufficient. Around €2,000, you'll be comfortable and enjoy some bits of luxury.
One thing I didn't expect about Portugal was how affordable the food was. Not once I had to cook at my accommodation except when I boiled eggs because of early departure. I could eat out for as cheap as $8, a big bagel with salmon and cream cheese, yoghurt with fruits, and hot chocolate.
The Bolt service I took to and from the airport was around €10, a 6 km ride. From Torre de Belem to downtown Lisbon was €3 on Bolt.
In comparison, the accommodation was not cheap. It was still a reasonable price, but I guess the influx of foreigners buying properties and remote workers coming to Portugal increased rent prices. Compared to France or Germany, it was still more affordable.
When it comes to affordable vacation, perhaps you want to check our list of best affordable destinations for a 3-week trip or itineraries for 3 weeks in Europe on a budget.
Visa and COVID-19 protocol
Other travel tips
The list of travel sites below might help you arrange your travel plans. I always book the major flight first (to and back), followed by hotels, especially if I'm visiting during peak season. I often book the tours a week before the trip or the day before. When it comes to a travel visa, make sure to get that going at least a week before if it's an evisa or 3 months before if it's an embassy-released visa.
PINNED MAP OF MUST-SEE PLACES IN PORTUGAL
Click the enlarge button on the top right corner. Credit: map data: Google
3 WEEKS IN PORTUGAL ITINERARY
Portugal was once a colonizing country with big ambitions. After all, they captured the biggest nation in South America – Brazil. Portugal also impacted and reached Africa, where they claimed Cape Verde, Sao Tome and Principe, Mozambique, and Angola. They even reached South Asia in some parts of India and Sri Lanka.
Itinerary #1: First-time (Algarve, Porto, Lisbon, Madeira)
This itinerary for three weeks in Portugal is suitable for those who are visiting the country for the first time. This guide will take you to must-see spots, historical locations, beach destinations, and even hiking trails. I know it's a little off to start in Algarve, but I designed it this way because of how flights are arranged.
What I mean by this is because of the locations of these cities, there are a lot of trackbacks you have to do. For example, you want to start in Lisbon, then go to Porto and then to Algarve. That would mean you can fly directly to Lisbon, then take a direct flight, bus, or train to Porto. Now, to reach Algarve, you must take a connecting flight or train in Lisbon.
The way same problem occurs if you start in Lisbon, next is Algarve, and then to Porto. There's also no direct flight between Algarve and Madeira Island (maybe pre-pandemic, there was, but none as of writing this). If you end up in Algarve before Madeira Islands, you must do a connecting flight to Lisbon.
So, this is a good route if you don't want to waste time trackback. If you don't mind that, then go for it.
You can also do Algarve > Porto > Madeira Island > Lisbon, depending on which place you want your last destination will be. Or Algarve > Lisbon > Porto > Madeira Island since there is a direct flight between Porto and Madeira Island.
Algarve for 5 days
Algarve is the place you want to be if you love water activities. This region of southern Portugal is rich in stunning beaches, charming coastal towns and offers many fun excursions. You can go kayaking, snorkelling, boat tours, paddleboarding, fishing, and dolphin-watching.
Algarve is also known for its fantastic golfing courses that are suitable for beginners. If you find yourself exhausted and hungry from all the activities, you're lucky because this region is known for its mouthwatering dishes. Seafood is popular here, while local specialities are must-tries.
The top destinations here include Praia do Camilo and Praia do Vau in Lagos, Praia da Rocha, Cape Saint Vincent, Praia da Oura and Praia do Peneco in Albufeira, Algarve Wine Route (road trip plus vineyard tour), and Ria Formosa Natural Park just to name a few.
Since you'll be exploring an entire region, it's much better to rent a car so you can see as much as have a convenient way to move. If you don't feel like doing that, you can use a ride-hailing app or use the public bus. Make sure to get a giro card to avoid paying too much whenever you ride the bus.
The airport in Algarve is located in Faro, while you can choose your accommodation towards the west of Faro. Along the coasts offers wonderful and relaxing resorts; from affordable, mid-range, to luxurious ones. Also read >> Best beach destination for a 3-week trip
Porto for 4 days
Many people would say you don't go to Porto for the sights but for the atmosphere. It's not true, though, Porto has a UNESCO World Heritage Site, beautiful architecture, and is home to several museums. For those who love wine, it's also known for its local Duoro Valley vineyard. You can also join festivals throughout the year.
Lisbon for 4 days
Lisbon was more than I expected. It's beautiful, rich in history, tasty, and most importantly, I really found the locals very friendly. There are a lot to do in this hilly, cobbled-stone city. Spend your day visiting historical sites such as
Madeira Island for 7 days
Madeira Island is my ultimate favourite place in Portugal. I'm happy to say it's definitely the highlight of my trip, but that's because I went there to go hiking. But after I accomplished that, I found Madeira Island has so much more to offer.
It's understandable why it is popular with foreign visitors arriving on cruise ships that are sailing between the Canary Islands, Africa, and Europe.
Apart from conquering mountain peaks, forests, and cliffs,
Itinerary #2: Hiking Trails (Lisbon, Torre, Porto, Madeira Island)
Portugal offers fantastic trails when it comes to hiking. It's more affordable than France, yet it has diverse terrain for everyone to try. Another thing that's great about Madeira Island is the weather. You can hike there most of the year, except in winter (when it gets too cold or some parts of the mountains get icy).
On the other hand, if you are in Lisbon, there are plenty of hiking trails to check out, just a few hour's drive from the city centre. If you have extra time, Lisbon also has a lot to offer regarding historical sites, gastronomical food scenes, charming alleys, party locations, and beaches.
Lisbon for 3 days
Although Lisbon is hilly, the best hiking you could get out of it is when you try to go to St George Castle, located on the highest point in Lisbon. The alleys are covered in cobbled stone, which gets slippery when raining.
Besides discovering Lisbon's historical and cultural sites, you can spend the first few days planning your trip. This includes checking if the hiking spots you want to go needs a permit or how to get to the trail the best way. If you plan to camp, use this time to find a rental place for a sleeping bag, tent, and other camping materials.
Torre/Serra da Estrela Natural Park for 2 days
Torre is the highest point in mainland Portugal. Since it's accessible by car, a hike could be considered boring to some people. But the vast space surrounding the manmade tower gives such a unique experience to visitors. There are stores here that are also known for selling tasty cheeses. If you come in winter, this part of Portugal is known as a skiing area.
To further your hike, you can head to the small lakes near Torre, such as Lagoa do Serrano and Covao do Meio. You can actually start your hike from Miradouro, Vale de Loriga, towards Torre, then make your way back down or check out other trails.
Porto for 2 days
Peneda-Gerês National Park is not too far from Porto, filled with amazing hiking trails. It is a picturesque walking route that will take you through the nature reserve, prehistoric remains, campsite, and even a chance to see wolves throughout this nature reserve.
The Serra do Pilar has a viewpoint that offers a panoramic view of the city and the stunning Duoro River, it's a loved trail both by locals and foreign visitors. Parque Natural do Alvão is another option. It's a national park situated not too far from Port, featuring a few hiking trails between rolling hills and a more challenging dense forest.
To hike these trails, it's best to have your own vehicle to go as you please. However, there are also tours that you can book, which provide round-trip transport and a guide.
Madeira Island for 7 days
Madeira Islands is located around the Canary Islands, west of Morocco/Western Saharan Desert. It's an island region for hiking. I spent 10 days on Madeira Island and managed to do five days of hiking. What I love the most is the fact that the local government has put a lot of effort into making the hiking trail accessible for visitors to the island.
The trails are not only well-marked, and many can be reached via local transportation if you don't plan to rent a car. Another interesting thing about hiking here is that the island offers various environments. For example, the most popular hike is Pico Aeiero to Pico Ruivo, which is mountain terrain. Then you hike the eastern Cape of Sao Lourenco, a desert-like area. The hike between Pico Ruivo and Portela is a sub-tropical route that offers a shaded trail.
There are more than 10 hiking areas you can check out while in Madeira. I recommend you spend 80% of your time hiking around and 20% visiting the Old Town and maybe making at least one trip to the waters. Fortunately, the local government of Maderia has put together a comprehensive website to help you plan your hikes on the island.
On Madeira's government site, all the hiking trails are divided according to their regional location. There are downloadable files that have all the information, such as distance, elevation, transportation options, and so much more.
Although most hikes can be done on your own, if you don't have a rented vehicle, you can either use the bus, take a taxi, or book a tour. I did a mix of all. For example, I used the bus to get to PR8 Verada da Ponta de São Lourenço. I booked a tour for PR1 to PR 2 (Areeiro to Ruivo). Finally, for PR 10 and PR 11 (Balcoes > Ribeiro Frio > Portela), I had to use a taxi.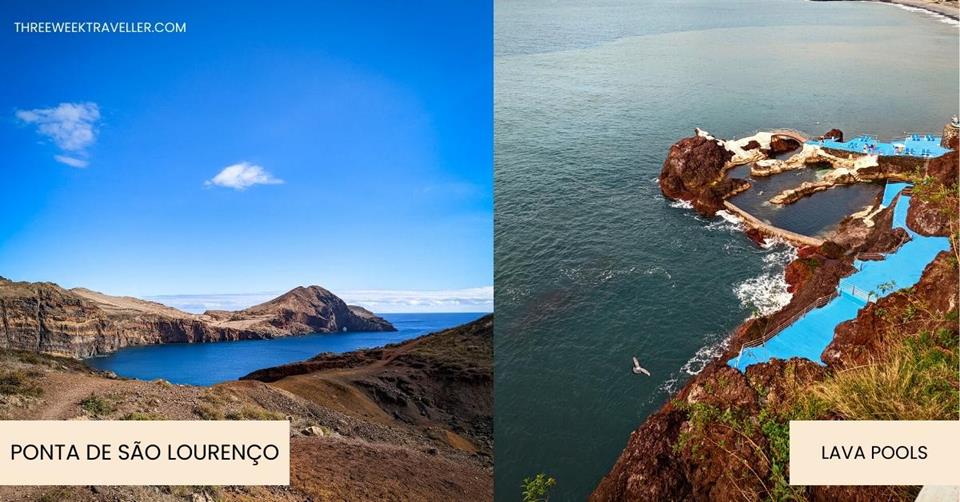 Extra: Azores
If you have the budget, you can skip Portugal's mainland altogether and only explore the Azores and Madeira Islands. There are no direct flights between the two regions, meaning you must connect in Lisbon. The ticket price is also not cheap and limited. So, if you wish to do this, planning is essential.
THINGS TO DO IN PORTUGAL
Lisbon
Porto
Algarve/Lagos
Madeira Islands
Azores
MUST-TRY PORTUGUESE DISHES, SNACKS, DRINKS
Portuguese loves their wine, seafood, and music. All these can be enjoyed simultaneously if you find a nice place that serves local cuisine and Fado music.
Bacalhau – salted cod fish
Cozido – a stew made with various meats and vegetables
Caldo verde – a soup made with potatoes, collard greens, and chorizo
Francesinha – a sandwich made with bread, ham, sausage, and steak, and covered in a beer and tomato sauce
Sardines/sardinha – available in restaurants but also famous to be bought in tinned cans
Pastel de nata – a small pastry filled with creamy custard and dusted with cinnamon
Bolo de arroz – a rice cake
Pudim flan – a creamy custard dessert
Bolo Rei – a round fruitcake
Queijadas – small tarts
Vinho Verde – a type of white wine that is made in the Minho region
Ginjinha – a traditional liqueur made from ginja berries
Port wine – a sweet fortified wine that is produced in the Douro Valley region
Azeitona – A traditional drink made from olives
Cerveja – Portuguese beer
RECOMMENDED ACCOMMODATION (per city)
Now that we have tackled every aspect of vital things to know when visiting Portugal, I want to leave you with one final tip – a list of fantastic places to stay. I made sure to include accommodations in different price ranges so you have plenty of choices.
Lisbon
Porto
Algarve (Lagos)
Madeira Islands
Torre
SUMMARY OF 3 WEEKS IN PORTUGAL ITINERARY
It's undeniable that Portugal has so much to offer. A relatively small country in south Europe has such rich history offers so many things to see and do during a visit.
After spending 20 days in Portugal, I honestly feel sad leaving. There are many places I've seen where I feel like the day of my flight, I had fun, and it was ready to go. But not for Portugal. I know I've missed many places to see, and the entire vibe of the culture and people was extraordinary. I guess more reason to come back in the future.
I hope that this travel itinerary for 3 weeks in Portugal has helped plan your own.
SAVE THIS TRAVEL ITINERARY ON YOUR PINTEREST: